Podcast: Play in new window | Download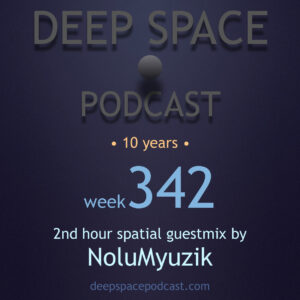 E ae!
Welcome to Deep Space Podcast! Many thanks for listening.
You gonna listen in the today's show one of the best vinyl spinners from South Africa: NoluMyuzik!
I'm honoured for having her mix in the show for the first time. It's a super vinyl only mix, I hope you guys enjoy.
Please check more detailed information about NoluMyuzik in the link below:
linktr.ee/Nolumyuzik
Enjoy the week342!
Playlist:
Artist – Track Name – [Label]
1st hour mixed by Marcelo Tavares
1) Joe – Get Centred – [Cómeme]
2) Ten Walls – Neighbourhood – [Runemark]
3) Native Tribe feat. Anathi – uMzansi Afrika (De Morna's Broken Thought) – [Nothing But]
4) Frank Spirit, Keys of Lynx feat. MISS C-LINE – Higher Spirit – [Underground Soul]
5) Hidden Spheres – Ruhani – [Oath]
6) Frédéric Galliano – Plis Infinis n°2 (2020 Remastered Version – Rainer Truby Trio Mix) – [F Communications]
7) Marcello Claudio Cassanelli – Malo Pivo – [Jackie Brown]
8) Gary Superfly feat. Other Lands – Purple – [[Mother Tongue]
9) SMBD – Glory – [Dirt Crew]
10) Laurence Guy – Untitled Needs – [Shall Not Fade]
11) Neil Foster – This We Have Now (Optmst Remix)
12) Calm – Afterglow and First Star (J-Walk Remix) – [Hell Yeah]
2nd hour spatial guestmix by NoluMyuzik (South Africa)
1) Makaya Macrayven – The 5Th Monk – [International Anthem]
2) Session Victim – The Hatch – [Delusions Of Grandeur]
3) Clap! Clap! – Black Acre – [Black Acre]
4) Emanative & Ahmed Abdullah – Love In Outer Space – [Brownswood]
5) MABUTA – Welcome To This World – [Afrosynth]
6) Jazz O Tech – Yellow Black
7) Alif Tree – Forgotten Places – [Compost]
8) Melanie De Basio- I'm Gonna Leave You
9) Henry Wu – Deep In The Mudd – [Eglo]
10) Joe Cleen – Cosmic Sandwich – [Jazz Cabbage]