Podcast: Play in new window | Download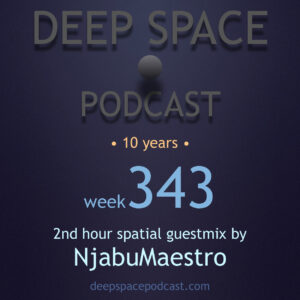 E ae!
Welcome to Deep Space Podcast! Many thanks for listening.
For the today's show, you gonna listen a spatial guestmix by NjabuMaestro (South Africa) joining the 10 years celebration of my podcast.
Please check more detailed information about NjabuMaestro in the links below:
Facebook: www.facebook.com/njabumaestro
Instagram: www.instagram.com/njabumaestro
Soundcloud: www.soundcloud.com/njabumaestro
Enjoy the week343!
Playlist:
Artist – Track Name – [Label]
1st hour mixed by Marcelo Tavares
1) Pemë – Temple Of The Fog – [Etoka]
2) Roger Gerressen – Your Counterpart In Another – [Joule Imprint]
3) So Inagawa – Count Your Blessings – [Cabaret]
4) Philipp Priebe – St.Peters – [STÓLAR]
5) OjA – Moon Party In Sun – [LW]
6) Ulun – Whispering Dub – [Ubertrend]
7) Kicks – Amadeus – [Rutilance]
8) Janeret – Bright
9) Dwson – Finsch – [Aluku]
10) Westcoast Goddess – Limelight Golden Age – [Let's Play House]
2nd hour spatial guestmix by NjabuMaestro (South Africa)
1) Slakah the Beatchild Ft. Ayah – Keep Up – [BBE]
2) Tahir Jones – We Are Alone Now – [Tenor]
3) Da Capo Feat. Clara Hill – Inner Light – [Clubstar]
4) Delano Smith – Ancestors (Main Mix) – [Kolour]
5) Studnitzky – Hauke (Atjazz Base Elements Remix) – [Best Works]
6) MoIsh, Decency – Chasing A Dream (SoulLab Vocal Mix) – [Candid Beings]
7) Furdak – Right Back (Alvaro Hylander Remix) – [DeepWit]
8) Enosoul & Ultimo Numero – In too Deep (Main Mix) – [House Afrika]
9) SGVO – Down – Cast (Dub) – [Stay True Sounds]
10) Da Capo – What Do The Know About Deep (Surreal Dub)
11) Malik Alston, LaRonn Dolley – Promise Me Love (Kai Alce Remix) – [Makin Moves]