Podcast: Play in new window | Download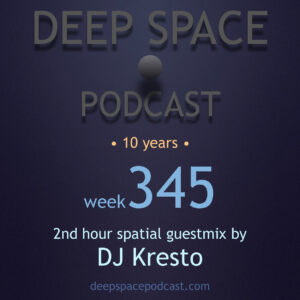 E ae!
Welcome to Deep Space Podcast! Many thanks for listening.
In the today's show, I'll introduce DJ Kresto for you guys in the 2nd hour!
Please check more detailed information about DJ Kresto in the links below:
Facebook: https://www.facebook.com/kagisokresto
Twitter: https://twitter.com/krestovilla
Enjoy the week345!
Playlist:
Artist – Track Name – [Label]
1st hour mixed by Marcelo Tavares
1) Auscultation – Flottant – [100% Silk]
2) Ex-Terrestrial – Dance of the Nymph – [Temple]
3) Intrepid Soul – Under The Sun – [The Gods Planet]
4) Daniele Papini & Tiberio Balatresi – Dram – [Sleep Is Commercial]
5) Simon Mann – Viels
6) Farazdeck – Searching for the Right Bandwidth – [Secuencias Temporales]
7) Presethead – Pont 0570 – [Esc.Rec.]
8) A Vision Of Panorama – Follow The Melody – [Omena]
9) Space Ghost – New World Energy (Sunset Mix) – [Tartelet]
10) Basic Need – On My Mind – [Seven Villas]
11) Coma Conscience – Woodlands – [Deep Electronics]
2nd hour spatial guestmix by DJ Kresto (South Africa)
1) Deep Thoughts – It's A Groove Thang – [Sanelow Label]
2) 120 Dance – Sunshine (Housemix)
3) Shade – Sondrio – [Romantics]
4) Felipe Gordon – Gotta Keep Us Separated – [Lost Palms]
5) K-Lone – Undercliff
6) Jonny Miller – Question – [Atjazz Record Company]
7) Yulia Niko Feat. Coro Coro – Molly Sally – [Get Physical Music]
8) Tonis – Pleasant Suprise
9) Somethin' Sanctified Feat. Grace&Badlove – Esencia – [Needwant]
10) Llana Bryne – Theoretical Medical Genitals – [Naive]
11) Tibi Dabo – Komorebi
12) & My Mother Say – Analog Life