Podcast: Play in new window | Download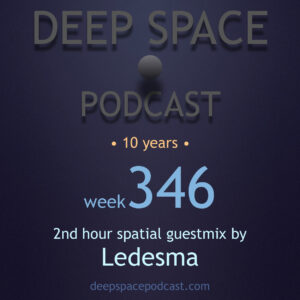 E ae!
Welcome to Deep Space Podcast! Many thanks for listening.
Many thanks to the spatial listener of the week, Christian Steinburg! I highly appreciate your support again, brother!
For the today's show, I've invited LEDESMA from Deep House O'Clock Podcast, Mexico.
Please check more detailed information about Ledesma in the link below:
Hearthis: https://hearthis.at/carlos-ledesma
Enjoy the week346!
Playlist:
Artist – Track Name – [Label]
1st hour mixed by Marcelo Tavares
1) tea pilgrim – cold raindrops
2) subduxtion – Lush Cream
3) Martin Stürtzer – Trees – [Phelios]
4) Fingers In The Noise – El Key – [spiel:feld]
5) Eduardo De La Calle – Yajur – [Endless]
6) Ercos Blanka – The Pencil – [Seven Villas]
7) Francisco Aguado – Attract – [Apnea Label]
8) AKUSMATiC – Metamorphosis
9) Ivan Dbri – When the Music Feels Like Crying – [Harmonious Discord]
10) Omar Santis – Space Color Palette – [Karakul]
2nd hour spatial guestmix by Ledesma (Deep House O'Clock, Mexico)
1) Romeo C, Alhan G – Unforgettaable – [Batti Batti]
2) Romeo C & Alhan G – Raindrops – [Batti Batti]
3) Morning Factory – Fantasy Check – [Clone Royal Oak]
4) Sebra Cruz – When Life Was Slow – [Life And Death]
5) Nicholas – Hot Summer Nights Home – [Taping Is Killing Music]
6) Stanccione – Quintana (Jimpster Remix) – [Cocada Music]
7) Owen Jay & Melchior Sultana – Contrasts – [Batti Batti]
8) Natan H – Negev – [Batti Batti]
9) Lebedev (Ru) – Belong To Something – [No Fuss]
10) Nicholas – The Answer – [Church]
11) Grant – Dazu – [Grant]