Podcast: Play in new window | Download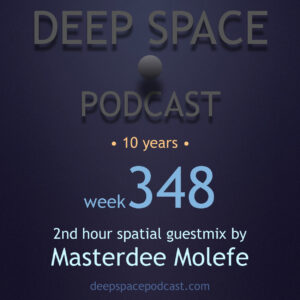 E ae!
Welcome to Deep Space Podcast! Many thanks for listening.
The guestmix today is featured by Masterdee Molefe (Bassment Music SA, South Africa).
Please check more information about Masterdee and Bassment Music in the links below:
Bandcamp: https://bassmentmusic.bandcamp.com
You can watch the video recording from both hours of this episode in the links below:
Marcelo Tavares: https://youtu.be/EV-OEHMwm24
Masterdee Molefe https://youtu.be/QrGW5EwU070
Enjoy the week348!
Playlist:
Artist – Track Name – [Label]
1st hour mixed by Marcelo Tavares
Sorry, no playlist. Recorded live in the last September 7th 2020 at After do Bionic livestream by Twitch.
2nh hour spatial guestmix by Masterdee Molefe (BassMent Music, South Africa)
1) Sheriff DJ – Deep Lovers (Slow Life Mix) – [Busywax]
2) MosothoMusiQ – Unheard Voices – [Deeper Interludes]
3) Shalon – Let It Fly (Aaron Demac's Dub Mix) – [Busywax]
4) Grae – Letlotlo (BANDCAMP Independent Release)
5) Aaron Demac – AZ Kviz (Aaron Demac's DeepSide Take) – [Busywax]
6) DJ PREANCE – Moon Walker – [DeepHouseCyphers]
7) Stereo Ape & Ndogo Gee – MISAUMIE (EikaMano's Intuition) – [AfroMove Music]
8) JuneJamOfHouse – Pay Back – [Deep Clicks]
9) Tee Zed – For Real – [DeepHouseCyphers]
10) Jazzuelle & Chronical Deep – Delusions Of Grandeur – [Stay True Sounds]
11) Jazzuelle & Simeon – Syzygy – [Stay True Sounds]