Podcast: Play in new window | Download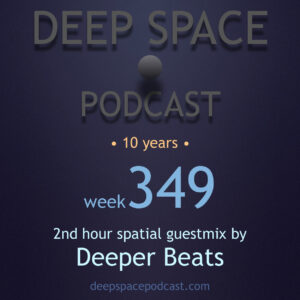 E ae!
Welcome to Deep Space Podcast! Many thanks for listening.
You gonna listen in the today's show the spatial guestmix by Deeper Beats (Studio 98 Recordings, South Africa).
I'd like to invite you guys for watching to Deep Space Broadcast tomorrow, October 30th 2020 at 12pm GMT-3. I'll be broadcasting the spatial guestmix by Mimi (Show Me Your Case, São Paulo, Brasil) recording live his guestmix to my podcast.
You can watch all the broadcastings in the link bellow:
https://deepspacepodcast.com/broadcast
Enjoy the week349!
Playlist:
Artist – Track Name – [Label]
1st hour mixed by Marcelo Tavares
1) Viktor Udvari – Coins – [microrama]
2) Roel Zweers – La Marina – [Esc.rec.]
3) Massud Matin and Smisou – Zal – [LumièresLaNuit OFF]
4) Intrepid Soul – Crickets In Late Summer – [The Gods Planet]
5) Francisco Aguado – Opposites – [Apnea Label]
6) Markus Masuhr – Forest Lights – [insectorama]
7) Coma Conscience – Forest Floor – [Deep Electronics]
8) Juan Deminicis – Fractals – [Seven Villas]
9) R.M – Distance O – [Chikyu-u]
10) Ivan Dbri – Love Letters For You – [Harmonious Discord]
11) Outward Roots – Drifting Towards The Forgotten Planet (2020 Revision) – [Run On]
2nd hour spatial guestmix by Deeper Beats (Studio 98 Recordings, South Africa)
1) Kazam – Paradis – [Coquelicot]
2) Paawl – I Guess – [Gestalt]
3) MJOG & Le Louche – Little Things – [Vaarios]
4) DJOKO – Why Should I Care – [Hen & Goose]
5) DJOKO – Asteroids – [Berg Audio]
6) Duwayne Montley Vs Rawbeetz – Secrets – [Salted Music]
7) Lebedev – Found You – [Large]
8) Morpei – Heartbrake – [Large]
9) Morpei – Export Failed – [Music is 4 Lovers]
10) Soulmagic – Soulmagic (Saison Extended Remix) – [Soulfuric]
11) Kassian – 8th Movement – [Heist]