Podcast: Play in new window | Download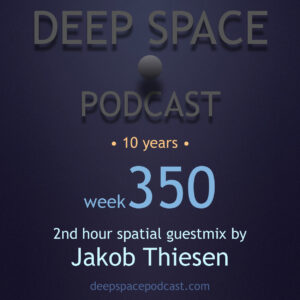 E ae!
Welcome to Deep Space Podcast! Many thanks for listening.
Finally, episode 350 is here! I'm so glad to present for you guys in the today's show a guestmix from one of the references in Ambient Music to my podcast: Jakob Thiesen!
His guestmix is pretty special. He recorded a live session with his new Yamaha SY22 synthesiser. Check it out!
Please check more detailed information about Jakob Thiesen in the links below:
http://www.resonancesounddesigninc.org
https://jakobthiesen.bandcamp.com
Enjoy the week350!
Playlist:
Artist – Track Name – [Label]
1st hour mixed by Marcelo Tavares
1) Coral Club – Gate
2) Hotspring – 5000 Tons – [Mood Hut]
3) Hanno Leichtmann – offest 23 – [Muscut]
4) Model Home – Sip Wine – [Future Times]
5) S A D – Akpai Song – [Muscut]
6) Jakob Thiesen & Matt Thibideau – Light House Ghosts – [obsoletecomponents]
7) Doc Sleep & Glenn Astro – Plover (Doc Sleep & Glenn Astro Sleeping Pill) – [Future Times]
8) FloatingMind – Melankolia (ambient) – [monoKraK]
9) VASE – Resolve (Basic House Remix)
10) Willy C Kote – Secret Room – [DeepTree]
11) DJ Durbin & Manu Can€˜'t You Tell (MNL'€˜s 005 Deconstructed Remix) – [Row]
2nd hour spatial guestmix by Jakob Thiesen
One take live session recorded with Yamaha SY22 synthesiser