Podcast: Play in new window | Download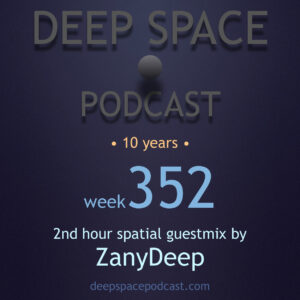 E ae!
Welcome to Deep Space Podcast! Many thanks for listening.
It's out now week352 featuring spatial guestmix by my dear sister ZanyDeep from South Africa in the 2nd hour!
Please check more detailed information about ZanyDeep in the links below:
https://www.facebook.com/ZanyDeepOfficial
Enjoy the week352!
Playlist:
Artist – Track Name – [Label]
1st Hour mixed by Marcelo Tavares
1) Evan If – 77 Progress – [Phuture Shock Musik]
2) Haze City – Bruk's Lament – [Cassé]
3) Anja Schneider – Closing – [Sous Music]
4) Jesse Bru – Summer Rain – [Happiness Therapy]
5) Gerd – Vulcan Princess (Sensurreal New Funk Mix) – [Evolution]
6) Christoph Vogel – Alpha Fog – [Empore Music]
7) Monstergetdown – Texia – [Matrix Funk]
8) Nas1 – Frigo Deca – [Bosconi Extra Virgin]
9) Frits Wentink – Double Man – [Clone Royal Oak]
10) SofaTalk – While She Sleeps (Ben Gomori's Elephant Party Remix) – [Monologues]
11) Fredfades & Jawn Rice – Travels Through Air (O.G. Demo Version) – [Mutual Intentions]
2nd hour spatial guestmix by ZanyDeep (South Africa)
1) Asphalt Layer – Bulk Into Mist – [Hello Strange]
2) Alexander Bogdanov – Illusion – [Hello Strange]
3) Overcast Sound – Rain Burrell – [Hello Strange]
4) kiril Torno – Room 41 – [Hello Strange]
5) Cristian Gonzalez – Yungas – [Fluglab]
6) Armen Miran – Reborn (Volen Sentir Sunset Mix) – [Hoomidaas]
7) ZanyDeep – Into The City (City Lights Dub Mix) – [Independent]
8) Nick Veron – Nomalcy – [Sudbeat Music]
9) Pierre Johnson & T.I.B – City of Zerzura – [Kalushi]