Podcast: Play in new window | Download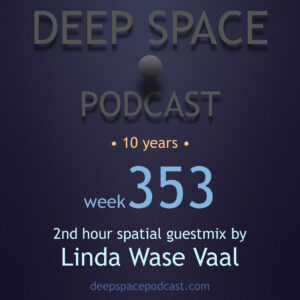 E ae!
Welcome to Deep Space Podcast! Many thanks for listening.
Today you gonna listen a super spatial guestmix by Linda Wase Vaal, from Vaal in South Africa. A dope and very awaited mix! Thank you, brother!
Please check more detailed information about Linda Wase Vaal in the link below:
https://www.facebook.com/LindaWaseVaal
Enjoy the week353!
Playlist:
Artist – Track Name – [Label]
1st hour mixed by Marcelo Tavares
1) Puma & The Dolphin – Am Am Am – [Invisible, Inc.]
2) Paradise 3001 – Inner Rhythm (Bio Sensitive Mix) – [Banoffee Pies]
3) Vandal M – Boogie Dub
4) Contemporary Vision – Reboot – [Contemporary Vision]
5) Metal – Dislocation Climb – [ESP Institute]
6) Kisk – Pool Newman – [Apparel Music]
7) Alps 2 – Arnda e – [Ad Hoc]
8) K-Wash – Los Globos (Style) – [Fat Beats]
9) XDB – Endo – [Dial]
10) Omar S – Bread Over Bed – [FXHE]
11) Carl Craig & Moritz von Oswald – Attenuator (Moritz von Oswald Dub) – [Planet E Communications]
12) Austin Ato – Utal Viola (Dream Mix) – [Fantastic Voyage]
2nd hour Spatial guestmix by Linda Wase Vaal (South Africa)
1) Delakeyz – Snapositive – [hommes du monde]
2) Nuno Estevez Feat. Riccardo Benigno – Bring me Forth – [Just Move]
3) Michael Lovatt Feat. Shamari Rocka – Jupiter – [Something Different]
4) Frederick Alonso, Lee Wilson – Walk into the sun (Dub Edit) – [Good For You]
5) Tuccillo Feat. C. H Brown – Addicted – [Unblock]
6) Dave Storm – Deadlines (Scott's Overdue Dub) – [Be Adult Music]
7) Deepear – Theory 45 – [Smashing Trax]
8) Nuno Estevez – In The Groove – [Just Move]
9) Forteba – Pictograms – [Plastic City]
10) D General – Mystery – [Solid Ground]
11) Linda Wase Vaal – General Sphere
12) Mathew Dekay & Lee Burridge – Fur Die Liebe (Dub) – [All Day I Dream]