Podcast: Play in new window | Download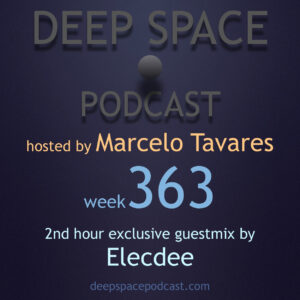 E ae!
Welcome to Deep Space Podcast! Many thanks for listening.
Today you gonna listen a dope guestmix by Elecdee from South Africa, in the 2nd hour! Many thanks for putting together, Elecdee!
You can check his own podcast in the link below:
https://hearthis.at/elec-dee
Big luv to the Spatial Listener of the week, Holger Witt! Many thanks for your contribution for the second time, brother! One love <3
Enjoy the week363!
Playlist:
Artist – Track Name – [Label]
1st hour mixed by Marcelo Tavares
1) MBG – Ore: Nove Nove Nove (Open Remix) – [MBG International]
2) rawBeet – Shine For Me – [Rhythm Vibe]
3) Achim Maerz – Nebula – [Mireia]
4) Will Long – You Have To Understand
5) Tour-Maubourg – Diffraction Rythmique – [Pont Neuf]
6) Pit Spector Feat. Cuthead – Shine – [Logistic]
7) Ewan Jansen – Aqua Libre – [Red Ember]
8) Herbert Vincent – Outlet – [Elephant Moon]
9) Soul Groove – Afro Galactic Jazz – [Feedasoul]
2nd hour exclusive guest mix by Elecdee (South Africa)
1) The Deepshakerz – U Got To Live – [Safe Music]
2) Fabian Kash – Lama – [Oh! Records Stockholm]
3) Paul Randolph – Shake House (Opolopo Reimagination) – [Maristar]
4) Kat La Kat & Billowjazz – Coming Home – [KLK Music]
5) Le Babar & Pat Lezizmo Feat. Anano – Last Call (Alvaro Hylander Remix) – [Muzik & Friendz]
6) Atjazz & Jullian Gomes – It's My Time – [Atjazz Record Company]
7) Vertigini – Memories – [Salted Music]
8) Michael Oberling Feat. Mush – Blessed – [Lisztomania]
9) Ntsakosoul – Feeling – [Stay True Sounds]
10) Zito Mowa – It's Wille – [Stay True Sounds]
11) Gabbana – One Thing's For Sure – [DeepTribe]