Podcast: Play in new window | Download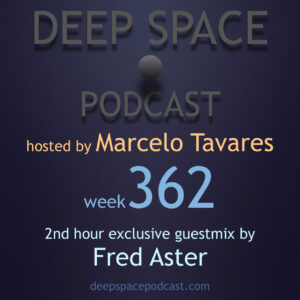 E ae!
Welcome to Deep Space Podcast! Many thanks for listening.
A huge guestmix in the today's show by Fred Aster for the second hour! He's the owner/co-founder from Blur Records and Blur Podcasts, Angola.
Please check more detailed information about Fred Aster and Blur Records in the links below:
https://www.facebook.com/fredastermusic
https://soundcloud.com/blurrecords_ao
I've also a guestmix to be released by Blur Podcast in the next Tuesday, January 19th 2021. Stay tuned and listen at Radio Electronica Jena:
https://www.radioelectronica.de
Thanks to Radio Electronica Jena's boss Reiner von Vielen for connecting the dots.
Enjoy the week362!
Playlist:
Artist – Track Name – [Label]
1st hour mixed by Marcelo Tavares
1) In Fields – A Year Alone – [Höga Nord]
2) Optik – Music Harmony And Rhythm – [MBG International]
3) Tobetsa Lamola & Brian Mohesh – Into The Deep – [Deep inspiration Show]
4) Annibale O. – Summer in April – [Pace Keepin']
5) Achim Maerz – Nebula – [Mireia]
6) Miguel Scott – Tribute To DJs At Work – [Groovy Riddim]
7) DJ Bigspin – Stay Cosy – [Running Out Of Steam]
8) Jacques Bon – Sky Waves – [Mireia]
9) Alex Albrecht pres. Melquíades – Further Afield – [Bouquet]
10) Nadia Khan – Rain Again (Lawrence Remix 1) – [Scissor & Thread]
2nd hour exclusive guestmix by Fred Aster (Blur Records & Blur Podcasts, Angola)
1) Philip Budny – Eclipses – [Church]
2) Yomakomba – Ragazza – [Pleasure Voyage]
3) Black Loops – Something Special – [Freerange]
4) Amaury Trevino – La Llené de Groove – [Gents & Dandy's]
5) Calmos & Berzingue – These Chords (Davelly Dub) – [Don't Need A Million]
6) Madcat – Heard It – [Virage]
7) Eloi – 1999 – [Routine]
8) Blaze – Lovelee Day (Janeret Edit)
9) Mtty – Another Night In Egypt
10) Fred Aster – Jazzclub – [Blur]
11) Cedarwood State Trax – You're My Last Breath
12) Popka – Jupiter Knows