Podcast: Play in new window | Download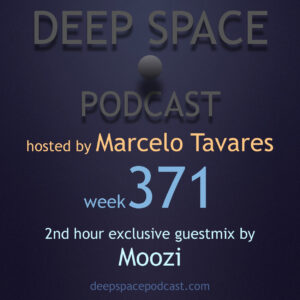 E ae!
Welcome to Deep Space Podcast! Many thanks for listening.
You gonna listen in the today's show an exclusive guestmix by MOOZI, from South Africa! He also has a podcast called The Logic Grooves. Stay tunned!
Please check more detailed information about Mozzi in the links below:
Podcast: https://hearthis.at/the-logic-grooves-fi
Facebook: https://web.facebook.com/The-Logic-Grooves-110356757311029
You can catch me live almost everyday starting from between 3 ~ 4pm GMT-3 (15h ~ 16h São Paulo / 8pm ~ 9pm South Africa) on my homepage and on my Twitch channel. Please join to say "E ae"! You can subscribe or send bits to support my work.
https://www.twitch.tv/deepspacepodcast
Enjoy the week371!
Playlist:
Artist – Track Name – [Label]
1st hour mixed by Marcelo Tavares
1) Bad_Mix – Bye Bye São Paulo – 40% Foda/Maneiríssimo
2) Monodeluxe – New
3) Miguel Herrnandez – Thursday – [dbh-music]
4) Session Victim – Guidance – [Delusions of Grandeur]
5) Sofia Kourtesis – By Your Side – [Technicolour]
6) Gary Michael Wade – Open Your Mind (Sting International Dubl Mix) – [Shelter]
7) Wil Milton – Cosmic Galaxy (BLISS NYC Mix) – [Path Life Music]
8) Smoke – Tell Me – [Utopia]
9) Joel Holmes – It Feels Good – [Toy Tonics]
10) Miquifaye Music aka Anthony Nicholson – DirtyDiscoJazzFunk – [TheJazzDiaries]
11) Trinidadian Deep – Euston Street – [Phuture Shock Musik]
2nd hour exclusive guestmix by Moozi (South Africa)
1) B.A.X – Nature's Hymn – [3rd Avenue]
2) Gonza Rodriguez – Ruta 9 – [Ruta 9]
3) Subnode – Cara – [Caapie]
4) Modd – Luminous – [Anjuna Deep]
5) Jeff Eveline – Crashes In Love Beijie Remix – [3rd Avenue]
6) Fernando Ferreyra – Nostalmagic Soul – [Dreamers]
7) Joshua Moreno – De Groove-Hersteller Bluum Remix – [Immersed]
8) Lerr – Mornings – [3rd Avenue]