Podcast: Play in new window | Download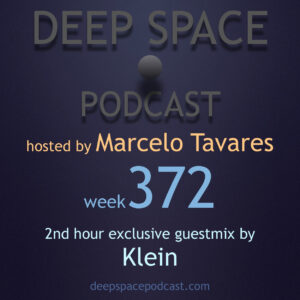 E ae!
Welcome to Deep Space Podcast! Many thanks for listening.
I hope you enjoy this episode featuring second hour exclusive guestmix by Klein, from Deepinit Podcast, South Africa!
Please check more detailed information about Klein in the links below:
Mixcloud: https://www.mixcloud.com/DeepInIt_Podcast
Facebook: https://www.facebook.com/wwww.deepinitpodcast.co.za
You can catch me live almost everyday starting from between 3 ~ 4pm GMT-3 (15h ~ 16h São Paulo / 8pm ~ 9pm South Africa) on my homepage and on my Twitch channel. Please join to say "E ae"! You can subscribe or send bits to support my work.
https://www.twitch.tv/deepspacepodcast
Enjoy the week372!
Playlist:
Artist – Track Name – [Label]
1st hour mixed by Marcelo Tavares
1) Afefe Iku – Nana Baruku – [Yoruba]
2) Afrikan Sciences – The New Dun Language – [ESP Institute]
3) Nicola Cruz – Subtropique – [Rhythm Section International]
4) Captn K – Down Low – [Nathan Nisbet Music]
5) Terry Tester – Nite Mood – [Boogie Cafe]
6) Etari – Funky Fuchsia – [100% Silk]
7) G-Prod & Taho – Woman In Gloves – [Lumina]
8) Tour-Maubourg Feat. Herson – Days – [Maestropolis]
9) Miquifaye Music aka Anthony Nicholson – Future Black Fusion – [The Jazz Diaries]
10) Jitwam – Sun After Rain (Kaidi Tatham's After The Sun Remix) – [The Jazz Diaries]
2nd hour exclusive guestmix by Klein (Deepinit Podcast, South Africa)
Sorry, no playlist.