Podcast: Play in new window | Download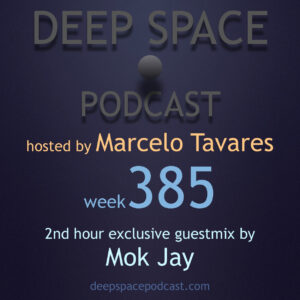 E ae!
Welcome to Deep Space Podcast! Many thanks for listening.
I'm glad to present in the 2nd hour for you guys one of my favorite South African underground house producers: Mok Jay! His mix is full of tunes from his label and unreleased, stay tuned!
Please check detailed information about Mok Jay in the link below:
Soundcloud: https://soundcloud.com/mok-records
Enjoy the week385!
Playlist:
Artist – Track Name – [Label]
1st hour mixed by Marcelo Tavares
1) Lone – Inlove2 – [Greco-Roman]
2) SL Jung – Inland Delta – [Seafoam Fiction]
3) Gusk – Sketch #4 Anafi Nights – [NuNorthern Soul]
4) Fama87 – Dub Gait – [Gost Zvuk]
5) Liam de Bruin – Lavender – [Heard And Felt]
6) Chari Chari – In Azurite – [Seeds And Ground]
7) Of Tepe – Hove Lawns
8) Khutšo Chuma – O Mang?
9) Volcanic Beatz – Voices In The Dark (Original Mix)
10) BioHazard People & Dew Stelmakhov – Au Fond (Wade Watts Remix) – [Batavia]
11) ColorJaxx – Distant People – [Atjazz Record Company]
12) S. Fidelity, Àbáse, Sam Ruffillo feat. Saint Ezekiel – Higher (Sam Ruffillo Remix) – [Jakarta]
2nd hour exclusive guestmix by Mok Jay
1) Nocturnal Musik – Empty Promises – [MOK]
2) Sora Ongaku – Glasses Of Scotch – [MOK]
3) Mok Jay – My Wife Is ill – [MANUSCRIPT]
4) BNinjas – Antidote – [Diptorrid]
5) Mok Jay – Love Is Higher – [MOK]
6) BNinjas – Stage Two – [MOK]
7) Mok Jay – It Feels Better – [MOK]
8) Da Lex DJ – Trickster – [MOK]
9) Mok Jay – One Fine Day – [TRUE DEEP]
10) Sphecific – Play Time Is Over – [MOK]
11) Mok Jay – You've Got It Right – [Big Mama]
12) GHTSG – Space Time Elektron (Rawthentic's Space Mix) – [MOK]