Podcast: Play in new window | Download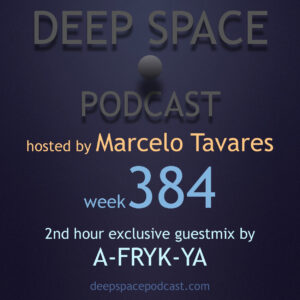 E ae!
Welcome to Deep Space Podcast! Many thanks for listening.
In the today's show you gonna listen an exclusive guestmix by A-FRYK-YA, from South Africa! I'm a big fan of his tunes and I'm glad for putting together his mix for your listening pleasure.
His mix has more than 1 hour and a half, and the full mix is available for Spacial Listeners only.
All the music (excluding tracks 12 & 15) have been produced/released or influenced by South African's respectively. Tracks 4 & 6 are forthcoming. However though; A tune titled "Perfect" by the producer/artist in question does appear & is available for purchase on all leading digital platforms.
Please check detailed information about A-FRYK-YA in the link below:
https://nylonrecordings.com/artists/a-fryk-ya/
Enjoy the week384!
Playlist:
Artist – Track Name – [Label]
1st hour mixed by Marcelo Tavares recorded at September 30, 2021 exclusively for Depth Charge Sessions on Twitch channel.
1) Project Pablo – Is It Dry? – [Technicolour]
2) Craig Alexander – Trapped – [Housepit Chi]
3) Musclecars – We Go Home Together – [Coloring Lessons]
4) AZAR AZAR – Inner World (Minus & MRDolly Remix) – [Jazzego]
5) Chari Chari – In Exotic Haze (Vintage Drum Club Mix) – [SeedsAndGround]
6) Ivan Conti & grassmass – A Mina – [Far Out]
7) Minus & MRDolly – The Break – [Jazzego]
8) Lord & Dego – Life Happens Here – [2000BLACK]
9) Sean McCabe & Karmasound – Can't Let It Go – [Phuture Shock Musik]
10) MasterChynos – Back To Basics (Jaymz Nylon Afro Tech ReShape) – [Nylon Trax]
11) Casomado – Pomelo (Dub Version) – [Friskybeat]
12) Fortunato – Pra Você Lembrar Daquele Dia – [Tropical Twista]
13) Nocturnal Musik SA & Mok Jay Discipline & Success (Original Mix) – [Mok]
2nd hour exclusive guestmix by A-FRYK-YA
1) Keith JFK – Sunshine – [Wavelength]
2) The Rurals Feat. Katie Leone – Superfluous Feelings (Lesiba Langa Vocal Remix) – [DIGIPENG]
3) Essential I – Holding Back (Dubbish Mix) – [Deeptone]
4) Luckygeenius Feat. Lheing – Somethin' Bout (Original Mix) – [Unreleased]
5) Khutso Chuma – Seers, Saints & Sorcerers (Original Mix) – [Bandcamp]
6) Luckygeenius Feat. Lheing -Your Hands (Original Mix) – [Unreleased]
7) Austin T – Living Passions (Original Mix) – [Kanzen]
8) Andy T – Love & Music (Original Mix) – [Deeptone]
9) Mayo 'N Egg – Your Light (Original Mix) – [Kanzen]
10) A-FRYK-YA Feat. Joy – In Time (LaRoc Dewa Mix) – [Nylon Trax]
11) Samuel Sea – Roof Top (Original Mix) – [Kanzen]
12) Madou Kouyate – Nindjougou (Hamza Rahimtula Banjara Remix) – [Wind Horse]
13) Letta Mbulu – Not Yet Uhuru – [Columbia]
14) AU XI EF – SubPhonic (Original Mix) – [Kanzen]
15) Jimpster, Greg Paulus – Soul Spectral (Dub) – [Freerange]