Podcast: Play in new window | Download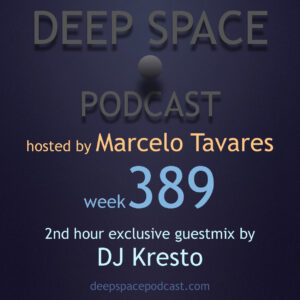 E ae!
Welcome to Deep Space Podcast! Many thanks for listening.
I bring for the today's show DJ Kresto, from South Africa, featuring the second hour for the second time!
Please check more information about DJ Kresto in the link below:
Facebook: https://www.facebook.com/VillaMusique-Sessions-1822525164712358
Enjoy the week389!
Playlist:
Artist – Track Name – [Label]
1st hour mixed by Marcelo Tavares
1) Valentina Goncharova & Alexander Aksenov – Reincarnation II – [Shukai]
2) The New Age Orchestra & Kenneth Bager – Entrance, Pt. 1 – [Music For Dreams]
3) Andrea Porcu – B. Il passaggio – [rohs!]
4) Laudness – Pool Sounds – [Music For Dreams]
5) Healion – I'll See It When I Believe It – [naff]
6) Horatio Luna – Milestones (Miles Davis Tribute) – [The Jazz Diaries]
7) DJ Yogurt & Moja – Surf – [Amidst]
8) Priori – Liminal – [naff]
9) Cosmic JD – Swell & Revolve – [Amidst]
10) Priori – The Village – [naff]
11) DJ Yogurt & Moja – Heart Beating – [Amidst]
2nd hour exclusive guestmix by DJ Kresto
1) Bartella – No Regrets (Extended Mix)- [Deepvisionz]
2) Tom Walsh – Space Race – [LClub Music]
3) Jerome Sydenham & Fatima Njai – Krimson Blossom – [Kraftmatic]
4) Mattias Tanzmann – Sfumato (Kerri Chandlers Remix) – [Moon Harbour]
5) William Florelle & Damslo – Do You See (Extended Club Mix) – [WotNot Music]
6) Yan Gardo – Lae Plaisir Pour Le Plaisir (B&S Concept Remix) – [Adaptation Music]
7) Jovonn – Wait A Minute, Stop
8) Jesusdapnk – Suductive Funktion – [Jump]
9) Richard Earnshaw & Kholi – Addicted (Vocal Mix) [Foliage]
10) Jimpster – Dangly Penther – [Freerange]
11) KVRVBO Feat. Jus Tadi – Conspiracy – [Stay True]