Podcast: Play in new window | Download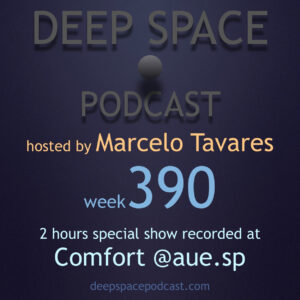 E ae!
Welcome to Deep Space Podcast! Many thanks for listening.
This is the last show of 2021! Happy Holidays!!!
Today, you gonna listen a 2 hours special show mixed by Marcelo Tavares, recorded at @aue.sp invited by Bob Toscano for his new weekly event called 'Comfort'.
We had a great time with friends! Thanks Bob, Diou and all the Auê São Paulo's staff.
Big thanks to the spacial listener of the week, Christian Steinburg! Thank you for such support, one more time.
I hope you had a great Christmas and I hope you and your family have a super 2022!
Happy New Year!!!
Enjoy the week389!
Playlist:
Artist – Track Name – [Label]
Playlist to be available soon. Please ask track ID for awhile.