Podcast: Play in new window | Download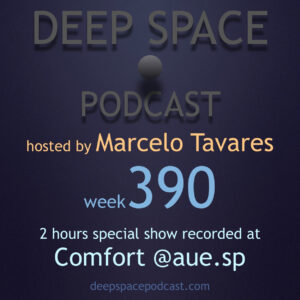 E ae!
Welcome to Deep Space Podcast! Many thanks for listening.
This is the last show of 2021! Happy Holidays!!!
Today, you gonna listen a 2 hours special show mixed by Marcelo Tavares, recorded at @aue.sp invited by Bob Toscano for his new weekly event called 'Comfort'.
We had a great time with friends! Thanks Bob, Diou and all the Auê São Paulo's staff.
Big thanks to the spacial listener of the week, Christian Steinburg! Thank you for such support, one more time.
I hope you had a great Christmas!
A prosperous 2022 for you and yours! Happy New Year!!!
Enjoy the week390!
Playlist:
Artist – Track Name – [Label]
1) Rene Breitbarth – Chill – [Deep Data]
2) Kyle Hall – Distant – [Forget The Clock]
2) Kousto – Planets – [Little Foot]
4) RVDS – Clicks in Pink House – [Couldn't Care More]
5) Baaz – Jeally – [Slices Of Life]
6) A Vision of Panorama – Wind, Brass & Bells – [Delicieuse]
7) Trevor Deep Jr. – Groovin´With Ya´ll – [HTPY]
8) Coflo Feat. Rawb Boss – Peanut Butter Lover (Instrumental) – [Yoruba]
9) ESB – Traction – [Constructed Grooves]
10) Nicola Conte & Gianluca Petrella feat. Raashan Ahmad – Inner Light – [Schema]
11) Wulffius – Heels At The Pebble Beach – [Gost Zvuk]
12) Jon Dixon feat. Moodymann & Kasan Belgrave – On My Own – [4EVR 4WRD]
13) Marcel Vogel & Tim Jules feat. Alexandre Arslan – If You Don't Love – [Shall Not Fade]
14) Narson Nelson – Nice & Easy – [Drift Deeper]
15) Aleqs Notal – Planetary Insanity (Life Recorder Remix) – [Chubby]
16) Kyle Hall – Shark – [Forget The Clock]
17) Milton Jackson – Birdsong – [Freerange]
18) Kousto & Peter Pearson – La Med – [Little Foot]
19) Hidden Spheres – Believe – [Oath]
20) Baaz – Jeally – [Slices Of Life]
21) Milton Jackson – Adriatica – [Freerange]
and more…