Podcast: Play in new window | Download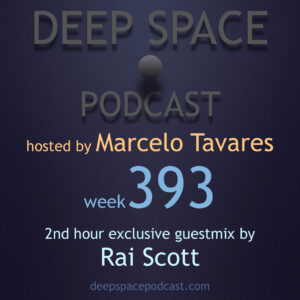 E ae!
Welcome to Deep Space Podcast! Many thanks for listening.
You gonna listen in the today's show a super special guestmix by Rai Scott (Innershift Music, UK)!
Many thanks for the beautiful mix, Rai! I'm a big fan!

Please check more information about Rai Scott and Innershift Music in the links below:
http://www.innershiftmusic.com
https://innershiftmusic.bandcamp.com
Enjoy the week393!
Playlist:
Artist – Track Name – [Label]
1st hour mixed by Marcelo Tavares
1) PST – Tati – [Worshop]
2) Marewrew – Rera Suy (Kuniyuki Remix) – [mulemusiq]
3) Janeret – Inception – [Rutilance Recordings]
4) FloatingMind – Metaclasm Nuclear – [monoKraK]
5) Charles.A.D – Beautiful Life
6) Angophora – Chaga – [Music For Dreams]
7) Igaxx – Space B – [Macadam Mambo]
8) Alex Albrecht with Oliver Paterson – The Beaten Track – [Analogue Attic]
9) Cousin – Homing Loop – [Nummer Music]
10) AfroBeat Makers – Prelude – [Comet]
11) A Vision Of Panorama – Purple – [Star Creature]
12) Sune – Extraordinaire – [Apparel Music]
13) Eddvin Feat. Mc4len – 2Sides (Original Mix) – [Just Move]
2nd hour exclusive guestmix by Rai Scott
1) Scrimshire ft Pie Eye Collective – Discussion – [Albert Flavours]
2) Larry De Kat – The Spoiler – [Paella Hair]
3) Tenderlonious – Neptune's Mood – [22a]
4) Jeen Bassa – My People (7 Seats) – [22a]
5) Kamaal Williams – One more time – [Black Focus]
6) Kamaal Williams – 1989 (feat Miguel Atwood Ferguson) – [Black Focus]
7) Kid Sublime Feat. Han Litz – Wings of Love – [In-Beat-Ween]
8) Gregor Yan – MLK – [Deep Explorer]
9) 2DeepSoul – Contour Lines – [Inner Shift Music]
10) Owen Jay & Melchior Sultana – Crossing Borders – [Batti Batti]
11) Moomin – In Our Lifetime – [Wolf]
12) Rai Scott – Music Inside – [Inner Shift Music]
13) Delano Smith & Brain Kage – D Spirit – [Michigander]
14) Serendipity – Open Your Eyes (Rai Scott Rework) – [Chatéau Chépére]
15) Rai Scott – Anahata Nada – [Chatéau Chépére]