Podcast: Play in new window | Download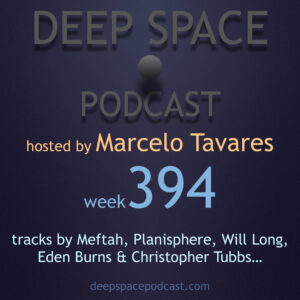 E ae!
Welcome to Deep Space Podcast! Many thanks for listening.
Today you gonna listen the audio recording (1st hour) from the last night, March 17th 2022, in my new residency at Depth Charge Sessions every Thursday on Twitch, alongside my DCS family ZEB K, ED MUSCHAMP and MR.BASELEY plus guests.
Please check the Twitch channel from the DCS crew:
Ed Muschamp: https://www.twitch.tv/ed_muschamp
DJ ZebK: https://www.twitch.tv/djzebk
Mr. Baseley: https://www.twitch.tv/mrbaseley
For the Deep Space Broadcast this weekend, March 19th & 20th 2022, you gonna watch the guests DejayGood, Peddro, Gionni and GLuaP.
Please check all information in the link below:
https://www.instagram.com/p/CbOBa7HP_Ha/?utm_source=ig_web_copy_link
Deep Space Broadcast featuring guests every Sat/Sun 10am BRT (3pm South Africa / 9am EST / 2pm CET) exclusively on Twitch: https://www.twitch.tv/deepspacebroadcast
Enjoy the week394!
Playlist:
Artist – Track Name – [Label]
1) Meftah – look at this mess – [Musha Publishing]
2) Planisphere – Greys N Blues – [For Those That Knoe]
3) Will Long – Pay It No Mind – [Self Released]
4) Eden Burns & Christopher Tubbs – Bacchus Won't Stop – [Public Possession]
5) Pool Boy, Pacific Coliseum & Cyril Hahn – Pool House – [Noire & Blanche]
6) LAAK – Now That Your Gone – [Austere]
7) Dresvn – A1 – [Acido]
8) Charles.A.D – Stop teasing me
9) Moodymann – Black Mahogani – [Mahogani Music]
10) the MIMIKOTO project – Separated Together – [pinyonbay]
11) Tour Maubourg feat. Cosmonection & Marc Bianco – Dub 003 – [Shall Not Fade]
12) Armin Bender – YXC – [Scale Limited]
13) Move D – Ston'd – [Source]