Podcast: Play in new window | Download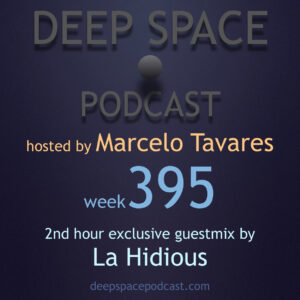 E ae!
Welcome to Deep Space Podcast! Many thanks for listening.
I'm glad to be able to record another episode for you! I still lack of inspiration, but received some messages that gave me motivation to move forward!
Thanks to Marcelo Escañuela, Felipe Barreto and Bob Toscano for the support!
Today you gonna listen an exclusive guestmix by La Hidious.
Please check more information about La Hidious in the links below:
https://www.facebook.com/DeepSignaturesRecordings
https://hearthis.at/deep-signatures-recordings-0x/
Enjoy the week395!
Playlist:
Artist – Track Name – [Label]
1st hour mixed by Marcelo Tavares
1) STL – Fly Fly – [Chateau Chépère]
2) Jesus Gonsev – Fantasy – [Deep Inspiration Show]
3) Michael Clifford – Trippin Versus Nowhere – [eMBi Music]
4) Eric Louis – Hazy Memory – [devilish affair]
5) k.fog – Move on Me
6) Zarenzeit – The Club (Dan Piu Underground Mix) – [Deep Explorer]
7) BDTom – Flipped Dip (Original Mix) – [Batavia]
8) Franky Carbon-e – The Duckman Tale – [EDM Underground]
9) Tom Vernon – Could This Be – [Shall Not Fade]
10) Move D – Jazz Is A Preacher – [Source]
2nd hour exclusive guestmix by La Hidious (Johannesburg, South Africa)
1) Joselacruz – Divine (Original Mix) – [Bubble 'N' Twist]
2) Cesar C – Bora (Original Mix) – [Bubble 'N' Twist]
3) Micronoise – Deep Down (Original Mix) – [Bubble 'N' Twist]
4) MrJ – Silverly (Original Mix) – [Bubble 'N' Twist]
5) Charly Angelz – Let It Out (Vocal Mix) – [Bubble 'N' Twist]
6) Demarkus Lewis – Lose Yourself (Main Mix) – [Large Music]
7) DJ Spen – Soulful Storm (Jovonn Remix) – [Bubble 'N' Twist]
8) Lucid Grooves – Summer 96 (Original Mix) – [Bubble 'N' Twist]
9) Vincent Caira – Back Again – [Bubble 'N' Twist]
10) Westside Angel – Queen Of Sorrow (Original Mix) – [Bubble 'N' Twist]
11) L.I.N.G – Think About It (Original Mix) – [Bubble 'N' Twist]