Podcast: Play in new window | Download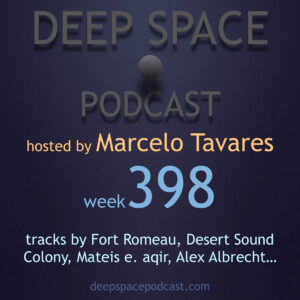 E ae!
Welcome to Deep Space Podcast! Many thanks for listening.
I'll play in the next Sunday, June 16th 2022, at backfor3 alongside Andrew, Dual Shok, Lucas Moura, Luiz Marcelo and Ricardo Galhardo. Please check all information in the instagram profile and let's hang out:
https://www.instagram.com/backfor3
Enjoy the week398!
Playlist:
Artist – Track Name – [Label]
1) Fort Romeau – Spotlights (Soela's Ambient Reprise) – [Ghostly International]
2) Desert Sound Colony – Big Jason & the Fruit Fly – [Unknown To The Unknown]
3) General Ludd – Drum Circle – [Transfigured Time]
4) Mateis e. aqir – Majes QWind – [Jungle Gym]
5) Alex Albrecht – Kennet River – [Mule Musiq]
6) Charles.A.D – Night is coming
7) deep88 – 440 Flute Alt
8) Tom Churchill – Rainy Day in Clynder – [2Sox]
9) Clive From Accounts – 4 Time – [Dirt Crew]
10) Hidden Spheres – Tiamo – [Oathcreations]
11) GF CLUBBIN – Broken Paradise
12) Temisan Adoki – Solemn Audio – [Record Union]