Podcast: Play in new window | Download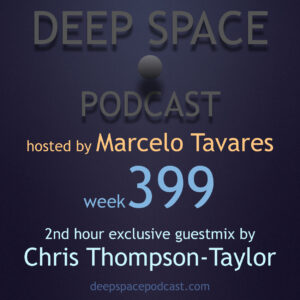 E ae!
Welcome to Deep Space Podcast! Many thanks for listening.
Today you gonna listen an amazing guestmix by Chris Thompson-Taylor, 4x Grammy award winning Jazz saxophonist (3x John Daversa American Dreamers Project 2019, 1x Brian Lynch Omni-American Bookclub 2020), DJ and producing Electronic Music off and on since 2009 based in New York City, USA.

Please check more detailed information about Chris in the link below:
Twitch: https://www.twitch.tv/jazzallnitelong/about
Enjoy the week399!
Playlist:
Artist – Track Name – [Label]
1st hour mixed by Marcelo Tavares
1) Dave Aju – Spacio Tempo (Domingo Dub) – [Elbow Grease]
2) Tour-Maubourg – Longing For U – [Noire & Blanche]
3) Ron Trent feat. Khruangbin – Flos Potentia (Sugar, Cotton, Tabacco) – [Night Time Stories]
4) Nocturnal Musik SA – Faith Without n h(Fait) (Original Mix) – [MOK]
5) SofaTalk – Rumble Strip – [Outplay]
6) Edmondson – Think Back – [Lissoms]
7) Wearing Shoes – 21st Floor (Original Mix) – [Apparel Music]
8) Freestyle Man & Henrik Schwarz Feat. Jimi Tenor – Moabit – [Mule Musiq]
9) Melchior Sultana – Don't Look Back – [Oathcreations]
10) Dubbyman – The Twilight (Manuel Costela Remix) – [2phonic]
11) Frank & Tony – Dream Vibration – [Scissor & Thread]
2nd hour exclusive guestmix by Chris Thompson-Taylor (NYC, USA)
1) DaRand Land – Marcela's Sense – [Scissor & Thread]
2) S.O.N – Suksma – [Chikyu-u]
3) Aske Izan – Body – Expression [Piston]
4) DJ Aakmael – Deep Street (deep mixx) – [UnXpozd]
5) The Mountain People – Mountain017.1 – [Mountain People]
6) Black Loops – People – [Freerange]
7) Gari Romalis – Infectious – [Flumo]
8) Monosoul – Beyond Skin-Deep – [Smile For a While]
9) Fred Everything – L'Horizon – [Lazy Days]
10) Rick Wade – Prime Expansion – [Yore]
11) Nephase – Mind Play – [Neptune Discs]
12) Rephlex – Thing Change – [Self Release]