Podcast: Play in new window | Download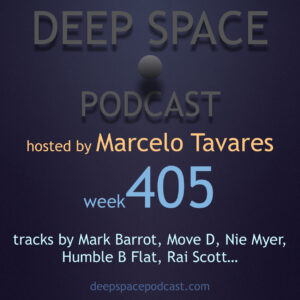 E ae!
Welcome to Deep Space Podcast! Many thanks for listening.
Many thanks to Rai Scott for the promo from the latest release!
Big shout to everyone for the love and support on Twitch, social media and donations! I love you all! Peace <3
Enjoy the week405!
Playlist:
Artist – Track Name – [Label]
1) Mark Barrott – Chillin' 4 Work
2) Move D – For Pete's 60th* – [Source]
3) Nie Myer – Jazzy Moment – [dsrptv rec]
4) Humble B Flat – Dance of the Dolphins – [Pond Life]
5) A Vision of Panorama – Let Me (Midnight Mix Instrumental) – [Star Creature Universal Vibrations]
6) Damien Exton – Hot Coffee Snow (Original Mix) – [Batavia]
7) Benedek – Desperado – [Polifonic]
8) Owen Jay & Melchior Sultana – Cosmic – [Battibatti]
9) Rai Scott – Clarinet Mood (Melody mix) – [No More To Roam]
10) Carsten Jost – Kaap RMX (II) – [Dial]