Podcast: Play in new window | Download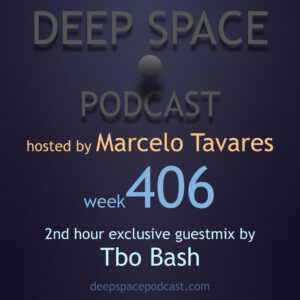 E ae!
Welcome to Deep Space Podcast! Many thanks for listening.
I'm glad to release a brand new show featuring an exclusive guestmix by Tbo Bash in the second hour.
For more detailed infos about Tbo Bash please visit:
https://hearthis.at/tbobash

Many thanks to all the supporters, you're really special listeners! My show is still alive because of you guys, much love!
As special listener you've access to exclusive mixes in the login area, like my DCS recordings from every Thursdays along my friends James Baseley, Ed Muschamp and Zeb K on my Twitch channel:
https://www.twitch.tv/deepspacebroadcast
Enjoy the week406!
Playlist:
Artist – Track Name – [Label]
1st hour mixed by Marcelo Tavares
1) Lakumer – Eyes – [LiBL]
2) Sonny Ism – This Time – [Northern Underground]
3) UMARGA – Crisps – [LiBL]
4) Scott Grooves – H.O.W. (Horses On Woodward) – [Natural Midi]
5) Inkswel – Why Don't You Listen (Fred Everything Remix Instrumental) – [Atjazz Record Company]
6) Leaf Level – Inky – [Mizar Alcor]
7) Synaptic Voyager – Fragments Of Normalty – [Frame of Mind]
8) Patricia – Coffee Computer – [Acid Test]
9) LX72 – Duster – [Lexx Music]
10) LX72 – The Quest – [Lexx Music]
11) Levi Love – Karma & address – [Mas O Menos]
12) Soichi Terada – Blinker – [Rush Hour]
2nd hour exclusive guestmix by Tbo Bash (South Africa)
1) Nick Holder – Forever In a Daze (Main Mix) – [Defected]
2) Omar feat. Stevie Wonder – Feeling You (Henrik Schwarz Remix) – [Peppermint Jam]
3) Henrik Schwarz – Unknown Touch Two – [Ostgut Ton]
4) Dynqmodyse – Rose Of Jericho 2(Srf Inc) – [We Play House]
5) Miguel Migs feat. Lisa Shaw – Waterfall (Original Vocal) – [Salted Music]
6) Prince Ivyson – Last Night – [Selville]
7) Kid Fonque – 2sides (China Charmeleon The Animal Remix) – [Stay True Sounds]
8) Xclusive KAi & NisapaMusiq – Ultra Visionary Dub(Raw Dub Mix) – [Deeper Interludes]
9) Ronald Clark – Resist (Purple Pill 2019 edit) – [Conkrete Digital]
10) Busi Mhlongo – Yapheli'Mali Yami (Halo & Lars Behrenroth Remix) – [Deeper Shades]