Podcast: Play in new window | Download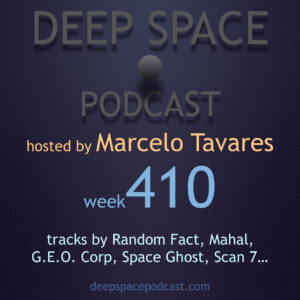 E ae!
Welcome to Deep Space Podcast! Many thanks for listening.
I recorded and live streamead this episode few hours ago via my homepage, Twitch, Mixcloud and Hearthis in company of good friends in the Twitch's chat.
Best regards to Msindisi, faxcorp, Zeb K, DeepLatinSoul, DealerNine, LeezeeBeats, and many others that are always joining the broadcasts. It's 2 hour mix, actually, and the full mix will be available for special listeners and Twitch subs only, so check in the Login Area or in my Twitch channel.
Join to my Discord for receiving notifications about Deep Space Podcast: https://discord.gg/XDCVPpK
Enjoy the week410!
Playlist:
Artist – Track Name – [Label]
1) Mahal – Ongaku – [Rough House Rosie]
2) G.E.O. Corp – Labrynna – [First Second Label]
3) Space Ghost – Be Yourself (Central Remix) – [Tartelet]
4) Scan 7 – Love Laugh Live – [Third Ear]
5) Frederick Alonso & Pat Lezizmo – Asturias [Atjazz Record Company]
6) Random Fact – Deluded (Thorne Miller Remix) – [Just Move]
7) Flowers on Monday – Secret Place (Original Mix) – [all day I dream in waves]
8) Bliss Street Queens – Enjoy The Sirens – [Pacific Rhythm]
9) Synaptic Voyager – Laminar Flow – [Frame Of Mind]
10) Pleasure Voyage – Seashell Island – [Pleasant Systems]
11) Aleqs Notal – Supply Shuttle – [Forbidden Dance]