Podcast: Play in new window | Download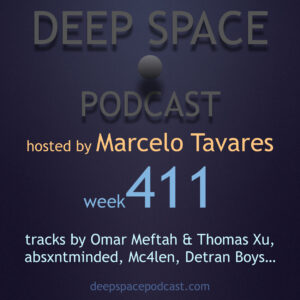 E ae!
Welcome to Deep Space Podcast! Many thanks for listening.
One more brand new show recorded and livestreamed via my Twitch, Mixcloud and Hearthis channels. Only my supporters can listen and watch to the full mix with 2 hour recording.
Check many ways to support my show at:
Join to my Discord for receiving notifications when I go live:
https://discord.gg/XDCVPpK
Enjoy the week411!
Playlist:
Artist – Track Name – [Label]
1) Omar Meftah & Thomas Xu – Morning Air – [Meeting Point]
2) absxntminded – Father Credo (Original Mix) – [Piston]
3) Nico Lahs – It's A Spiritual Thing – [Omena]
4) Detran Boys – Locomover-se Lendo A Lei
5) Dusty – Nabeel
6) Citizen Maze – Natural Playground – [Analogue Attic]
7) Neuronphase – By Myself – [Deep Inspiration Show]
8) Mc4len – Soulful Endeavors (Original Mix)
9) Random Fact – On This Day (Thorne Miller Remix) – [Just Move]
10) tape_hiss – W 4th Street [ACE] – [Darker Than Wax]
11) Red D Presents Red Basics – Mike's Groove – [We Play House]
12) Javas – Rear Wheel – [Umanuto]