Podcast: Play in new window | Download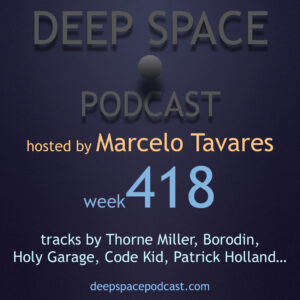 E ae!
Welcome to Deep Space Podcast! Many thanks for listening.
Many greetings to the Spatial Listener of the week, Lily Brown from Australia! I really appreciate your support!
You can also do like Lily Brown for help to keep the podcast in the air and receive many benefits such early access to the shows, exclusive mixes, older shows and much more! Check in the link below:
https://deepspacepodcast.com/subscribe
Enjoy the week418!
Playlist:
Artist – Track Name – [Label]
1) Thorne Miller – It's Time – [Just Move]
2) Borodin – Aparte
3) Holy Garage – Surprise (Isolée Remix) – [Playhouse]
4) Code kid – Rescue Sanity – [Super Black Tapes]
5) Patrick Holland – Fog Wall
6) Daisuke Kondo – Tune 4 My Daughter – [Jitney Music]
7) DJ Aakmael – Depth – [Hizou]
8) KX9000 Feat. Tour-Maubourg – April – [Oath]
9) Ode To 97 – Life After Dreams – [Departure Lounge]
10) Cali Kula feat. Seriously Sam – Queen G – [Wild Bohemia]
11) Shaka – I Can Take That – [Quintessentials]