Podcast: Play in new window | Download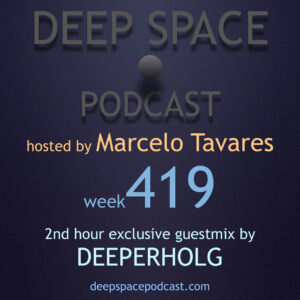 E ae!
Welcome to Deep Space Podcast! Many thanks for listening.
Today we've an exclusive guestmix by DEEPERHOLG in the 2nd hour!
Please check more mixes and infos by DEEPERHOLG aka MMC#PHONatix aka DEEPSHIT at:
https://hearthis.at/hwmmc
If you also wanna to be featured as guest, please check all information at:
https://deepspacepodcast.com/submit-guestmix
Please consider to support my show, and help to keep the podcast in the air and free for everyone. By supporting my show you turn member as Spatial Listener and will receive many benefits. Check detailed infos at:
https://deepspacepodcast.com/subscribe
You can catch me live every Thursday at Depth Charge Sessions along Zeb K, Ed Muschamp and Mr. Baseley plus many guests. See the schedule at:
https://depthchargesessions.com
Enjoy the week419!
Playlist:
Artist – Track Name – [Label]
1st hour mixed by Marcelo Tavares
1) As Valet – Lab e Aint – [Futuristica Music]
2) D'oké – The Mini Job – [Just 4 The Beat]
3) Adrià Duch – Don't Let Me Down – [Chikyu-u]
4) Tee Zed – Legacy (Original Mix) – [Occult Power]
5) Rhythm Of Paradise – In My Face – [Smallville]
6) Magnus Asberg – Into U (Jay Tripwire Deependub) – [Viva]
7) Earth Trax – Deprive Me Of Air – [Lost Palms]
8) Matías Delóngaro – Occasus (Deeplux Remix) – [Batavia]
9) Subliminal – Whittier – [Apnea Label]
10) Mark E – Rain (Patrice Scott Remix) – [18437]
11) Glenn Underground – Travel – [Strictly Jaz Unit Muzic]
2nd hour exclusive guestmix by Deeperholg (Chemnitz, Germany)
1) Yukihiro Fukutomi – Feel My Love Vibes (Dub Vibes) – [mulemusiq]
2) Refresh (Italy) – Unconditional Love (Original Mix) – [Deepinside]
3) Prince Ivyson – Roy Clark (Original Mix) – [DeepWit Uncovered]
4) Meterius Johnson – City (Original Mix) – [AvantRoots]
5) Joakim Lone Octet – Sphinx (Next Evidence Remix) – [Future Talk]
6) John Julius Knight – Got Moves (Original Mix) – [Blacklist]
7) Harvey Sutherland – Sunday Flower (Original Mix) – [Clarity]
8) Deepconsoul, SoulVista – A Touch Of Jazz (Original Mix) – [Nothing But]
9) Chicago Deep Grooves – Double Night (Original Mix) – [Feel The Vibe]
10) Baxsphere – Seemingly (Original Mix) – [Serious Diggers]