Podcast: Play in new window | Download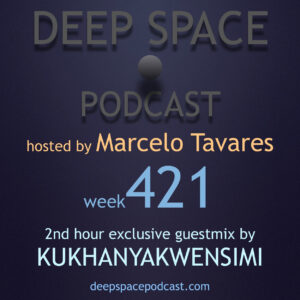 E ae!
Welcome to Deep Space Podcast! Many thanks for listening.
I'm glad for hosting in the 2nd hour of the today's show, one of my favorite South African artists: Kukhanyakwensimi aka OFUREN!
Be welcome and thank you so much for your special guestmix, brother!
He's back with his dope music and you can support him at:
https://kukhanyakwensimi.bandcamp.com
Please consider to support my show, and help to keep the podcast in the air and free for everyone. By supporting my show you turn a Spatial Listener and will receive many benefits. You can also be featured as co-host for one episode. Check detailed infos at:
https://deepspacepodcast.com/subscribe
You can catch me live every Thursday at Depth Charge Sessions along Zeb K, Ed Muschamp, Mr. Baseley and Deeperholg plus guests. See the schedule at:
https://depthchargesessions.com
Enjoy the week421!
Playlist:
Artist – Track Name – [Label]
1st hour mixed by Marcelo Tavares
1) OVEOUS X Don Kamares – Legacy (Dubstramental) – [Yoruba]
2) Russ Gabriel – The Multicoloured Mind – [Rawax Motor City Edition]
3) The Venusian – Cih – [Insectorama]
4) Dubtil – Odd
5) Jose Vizcaino – Transitions – [Seven Villas Music]
6) Coral D – Lower Feels – [Tears]
7) Indopan – Bogville – [100% Silk]
8) Rio Padice – Dark Moon – [Housewax]
9) Forte – Flip (DJ Popup Remix) – [ØEN]
10) FOANS – Technique Of The Descent – [100% Silk]
11) Cyanea – Strepto Sonaris – [Monofónicos Netlabel]
12) Mundos Sutis – Aquamarine – [Seven Villas Music]
2nd hour special guestmix by Kukhanyakwensimi
Live Conduction (Go Deeper Ofuren Remix + Inkwenkwezi)