Podcast: Play in new window | Download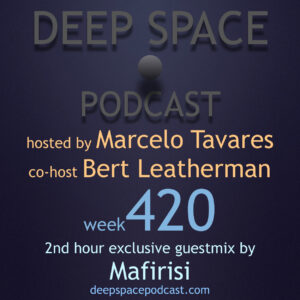 E ae!
Welcome to Deep Space Podcast! Many thanks for listening.
Brand new show for your listening pleasure co-hosted by BERT LEATHERMAN!
Many thanks brother for co-hosting one more episode!
Featuring 2nd hour exclusive guestmix by MAFIRISI from South Africa!
If you also wanna to be featured as guest on the 2nd hour, please check:
https://deepspacepodcast.com/submit-guestmix
Please consider to support my show, and help to keep the podcast in the air and free for everyone. By supporting my show you turn member as Spatial Listener and will receive many benefits. You can also be featured as co-host for one episode. Check detailed infos at:
https://deepspacepodcast.com/subscribe
You can catch me live every Thursday at Depth Charge Sessions along Zeb K, Ed Muschamp and Mr. Baseley plus many guests. See the schedule at:
https://depthchargesessions.com
Enjoy the week420!
Playlist:
Artist – Track Name – [Label]
1st hour mixed by Marcelo Tavares
1) Percis – Sat Morning (Original Mix) – [Paunchy Cat]
2) Kukhanyakwensimi – Inkwenkwezi
3) Stefano Stereo – Rituals – [Amatori]
4) Panta Rex – Azul – [Noorden]
5) Lac Seul – Untitled – [Jungle Gym]
6) Kyle Hall & Steven Julien – Page 4 – [Apron]
7) Rai Scott – Clotho – [RS / Innder Shift Music]
8) Mr. Fingers – Like the Dawn – [Alleviated]
9) Black Light Smoke – Sprinkles Says – [Scissor & Thread]
10) Ewan Jansen – Dead nights and Headlights – [R.A.N.D. Muzik]
11) Birds Of Rhythm – Fly South – [Lips & Rhythm]
12) Jan Kincl – For A Minute (Gene Hunt Remix 2) – [Cycle]
11) Black Light Smoke – Pleasure Chaser
12) Alex V – Daintree – [Sophisticate]
2nd hour exclusive guestmix by Mafirisi (South Africa)
1) Emad Parandian – Kamanche – [Souvenir Music]
2) Christopher Rau – Ne Travaillez Jamais – [Smallville]
3) Shur-I-Kan – What's Going On – [Freerange]
4) Sameed – Dust Jazz – [Local Talk]
5) Sam Lrl – Rain Tehnique – [Freerange]
6) Pete Blas- Message To The People – [Dosh]
7) Matt Masters – All Night Dancing – [Freerange]
8) Patrice Scott – Inside My Mind – [Sistrum]
9) Patrice Scott – Who Are You – [Sistrum]
10) System – Blife In Blue – [Atjazz Records Company]