Podcast: Play in new window | Download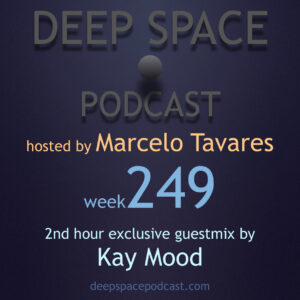 E ae!
Welcome to Deep Space Podcast! Many thanks for listening.
Today you gonna listen an exclusive guestmix by Kay Mood!
For more detailed information about Kay Mood please check the links below:
https://www.facebook.com/kaymoodsa
https://www.mixcloud.com/Kay_Mood
https://www.keabetswekaymood.podomatic.com
https://www.soundcloud.com/kay-mood
And don't miss the week250, it gonna be a 2 hours special show mixed by myself plus video recording. Stay tuned!
Enjoy the week249!
Playlist:
Artist – Track Name – [Label]
1st hour mixed by Marcelo Tavares
1) J M S Khosah – Actuality – [Apron]
2) Batu – Nosema – [Hessle Audio]
3) Lars Behrenroth – 30 Seconds – [Deeper Shades]
4) Marlon Hoffstadt – I'm With You
5) Wayward – Orissa (Pépe's Jazz Bar Re-interpretation) – [Silver Bear]
6) D. Tiffany – Something About You – [Pacific Rhythm]
7) Wadedeep – Computer Music (Original Mix) – [Ababili]
8) Lars Bartkuhn – Elysium (Paradise Dub) – [Neroli]
9) Arnold Tempo & Apple Jazz Feat. Slaga & Norman – Phumulani
10) Remotif – Dares
11) Solemn – Rain (Original Mix) – [Paunchy Cat]
2nd hour exclusive guestmix by Kay Mood (South Africa)
1) MfanO Da R-Deep – Exclusive Friends (Original Mix)
2) Leit Motif & Mickey Mau – Tech It My Way (Original Mix)
3) Gabbana & Decency – Love Me Now (Slow Jam) – [DeepTribe Music]
4) Rawboticsoul – Chicago Ghetto City
5) TimAdeep feat. Laurie Webb – Do It (Mr ESoul's Seen)
6) Myazisto feat. Prince Katumbi – I Am An African (Tech Mix)
7) P-Deep – Ignorent (Eletric Mix)
8) Eddvin – Remember – [Just Move]
9) Da Lex DJ – Learning To Walk Away (Original Mix)
10) Vandal M – Let Them Try – [FOMP]