Podcast: Play in new window | Download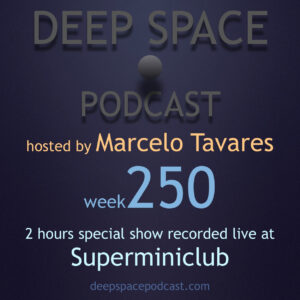 E ae!
Welcome to Deep Space Podcast! Many thanks for listening.
Yes! Finally week250: vinyl only, classics and new tunes handpicked from the podcast over the years, recorded live to celebrate 250 episodes alongside my brothers in music Edu Monagatti and Daniel Corvello in their gig called 'SuperminiClub' in the last Sunday, September 17th 2017, at MAJOR Bar, located in Suzano city (São Paulo, Brasil).
We had great times together with some other good friends warmed up in a sunny afternoon by Monagatti. Then me playing this mix set that you'll listen now. And at last but not least Daniel, that has finished the gig with a dope mix.
Many thanks to Monagatti and Daniel for having me!
You can watch the video recording in the link below:
https://youtu.be/ZhI5O35UD2Q
Stay tuned for the next 2 hours show special season featuring stunning guestmixes in the 2nd hour, starting up in the next week!
Enjoy the week250!
Playlist:
Artist – Track Name – [Label]
2 hours special show recorded live at SuperminiClub – 17/09/2017
1) Jerry Granelli – Shih – A Gathering Of The Energy (From Sun Tzu) – [Divorce]
2) Nana Vasconcelos – O Berimbau – [ECM]
3) Sad City – Steady Jam – [Meda Fury]
4) Sonzeira Feat. Emanuelle Araújo – Southern Freeez (Dub) – [Brownswood]
5) Gamayun – Outlands – [Udacha]
6) Kuniyuki – A Night In SA – [Freerange]
7) Dices presents Untitled Gear – Nothing Is Over – [Fields & Forests]
8) DJ Nature – Why Not? – [Jazzy Sport]
9) Quarion – IO – [Retreat]
10) Andy Vaz – Bicycle Love (Damon Lamar's Lower Wacker Drive Mix) – [Yore]
11) Hidden Spheres – IshOnSax – [Lobster Theremin]
12) Chord Memory Band – Donostia – [Beats Of No Nation]
13) DJ Central – Basil (Version Intégrale Club) – [Help]
14) Booshank – Single Dutch – [Unthank]
15) Roman Flügel – Cookie Dust – [Live At Robert Johnson]
16) A Sagittariun – Carina – [Elastic Dreams]
17) Chasindub – Still Here – [Phonogramme]
18) Sven Weisemann – Interlace Jitter – [Mojuba]
19) Nocow – Inache – [Gost Zvuk]
20) Andre Lodemann – Flying – [Moods & Grooves]
21) Dave DK – Will Be Gone – [Moodmusic]
22) Gegenheimer & Jenius – IPS – [Moodmusic]
23) Jordan – Meanwhile In Ridgewood – [Ornate Music]
24) Juan Atkins & Moritz von Oswald present Borderland – Riod – [Tresor]
25) Benedikt Frey & Jonas.San – Girl From Venus – [Batti Batti]
26) NapiHedz – Jah Bless – [Prime Numbers]
27) Dices + AEM Rhythm Cascade – Pacific – [12th Isle]
28) Max D – A Billion Drops In Space – [Future Times]