Podcast: Play in new window | Download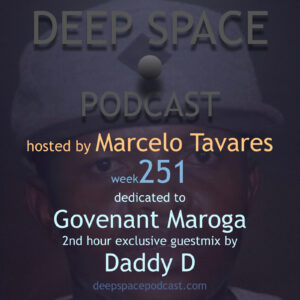 E ae!
Welcome to Deep Space Podcast! Many thanks for listening.
This show is specially dedicated to my brother in music Govenant Maroga. He passed away this week. It's a big loss for all of us. I still don't believe that I'll never know him in person.
And also featuring an amazing vinyl only guestmix by Daddy D (Sounds So Deep, South Africa) in the 2nd hour regarding our beloved deep underground house soldier, GOVENANT MAROGA aka GOVDEEP! Rest In Peace, brother.
Enjoy the week251!
Playlist:
Artist – Track Name – [Label]
week251 – September 29, 2017
1st hour mixed by Marcelo Tavares
1) Strategy – Occurrence at the Triple Door – [Geographic North]
2) Sabrina Malheiros – Clareia (Henry Wu Remix) – [Far Out]
3) Mr. YT – Regard – [Global Cuts]
4) Woki Toki – Simple – [Society 3.0]
5) Dave-Eaux – Fabricated Love – [King Six]
6) Earth Boys – Let It Go – [Let's Play House]
7) DJ Spinna – Cosmocrank – [Local Talk]
8) Missing Soul – Across My Mind (Trinidadian Deep Remix) – [Future Vision]
9) Saine & Smith – Sir Viktig – [2MR]
10) Space Dimension Controller – EXOSTACK – [R&S]
11) Marcel Lune – Telephones – [Local Talk]
2nd hour exclusive guestmix by Daddy D (Sounds So Deep, Pretoria, South Africa)
Sorry, no playlist.