Podcast: Play in new window | Download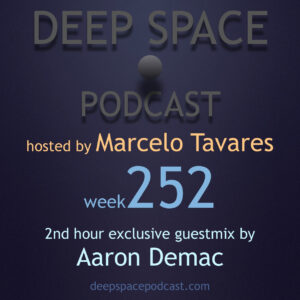 E ae!
Welcome to Deep Space Podcast! Many thanks for listening.
Many thanks for all the feedbacks you guys sent about the week251, dedicated to Govenant Maroga. It really was a special episode… Big shout to Steve Ottman, Junior Sachaka, Nhlanhla Irvin, Katlego Choshane… And many more, love you all <3
Today you gonna listen a 1st hour full of mellow tunes and 2nd hour featuring an exclusive guestmix by Aaron Demac (South Africa).
Aaron DeMac is a Deep House, Deep-Tech DJ/producer. Under his own label 'Leukaemusik', born and raised in the province of Gauteng and began music production at a very early age. Recently, just released his first project with Spunk Records titled 'Intergalatic Love EP'.
Please check more detailed information about Aaaron Demac in the links below:
https://www.facebook.com/AaronDemacZA
Enjoy the week252!
Playlist:
Artist – Track Name – [Label]
1st hour mixed by Marcelo Tavares
1) Gal Costa – Jóia (Holoedit Extend)
2) Solemn – Den – [Dream Mode]
3) Da Lex DJ – Adamant (Original) – [Spiced Music]
4) Keita Sano – Magic Ritual – [What Ever Not]
5) Piezo – Opeq – [Idle Hands]
6) Laksa – Hallyah – [Ilian Tape]
7) Stereo Ape feat. Ndogo Gee – Misaumie – [AfroMove Music]
8) Trevor Lawrence Jr. – Car Vibe – [Ropeadope]
9) Trillion Tapeman – Find Movements Begun – [Bons Vivants]
10) Skee Mask – Routine – [Ilian Tape]
11) Physical Therapy – One More Chance – [Sobo]
2nd hour exclusive guestmix by Aaron Demac (South Africa)
1) Aaron Demac – Hearts (Intergalatic Deepside Mix) – [Leukaemusik]
2) Franck Roger – Rebound – [Home Invasion]
3) Marlon Hoffstadt – Crumble (Andre Lodemann Remix) – [DHA]
4) Lou Gorbea – In Da Ghetto (Pablo Fierro Remix) – [Nervous]
5) Fabio Genito – Buena Onda – [SOLE Channel Music]
6) Josh Butler – House Sitting – [Cajual]
7) Arturo Garces – I Know – [Nothing But]
8) Kapote – Fuck Music – [Toy Tonics]
9) Piemont – To The Point – [Lapsus Music]
10) Juliet Sikora – Larry's Garage – [Mixmag Germany]