Podcast: Play in new window | Download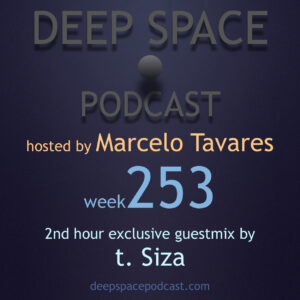 E ae!
Welcome to Deep Space Podcast! Thanks for listening.
week253 featuring an AMAZING guestmix by t. Siza (Super Black Tapes, South Africa)! The space pilot from another galaxy is here in the 2nd hour!
His latest album is available in the major stores and streaming services online. Check it out in the link below:
https://www.facebook.com/tSizaSuperBlack/
https://www.facebook.com/Superblacktapes/
Enjoy the week253!
Playlist:
Artist – Track Name – [Label]
1st hour mixed by Marcelo Tavares
1) Nikakoi – Raise Your Head And Smell The Air (HVL Space Edit) – [Transfigured Time]
2) Two Thou – SOL – [Fields & Forests]
3) Serb – Feet Locked – [Fizic]
4) Big Bossa – Electro Latin – [Kolibri Musique]
5) Ian o'Brien – WISDOM
6) Nocow – Ornament – [FIGURE JAMS]
7) Burnt Friedman – Intrication – [Latency]
8) Fedianin – Painted Memories (Original Mix) – [Kopoc]
9) Niro – Nazca – [Neo Violence]
10) Loftsoul x Miruga – Michigan Nights – [R2]
11) Makkhen Gigga – Tutaonana Baadaye – [Bumako]
12) Mori Ra – Cross Calf Dance – [Berceuse Heroique]
2nd hour exclusive guestmix by t. Siza (Super Black Tapes, South Africa)
1) Tebatjo Malapile – Into The Light
2) t. Siza – The Space Pilot
3) t. Siza – Music Of The People
4) Fred Buddah – Ama Khambe Wemvelo
5) Ofuren – Mountain Pass
5) t. Siza – Space Jamming 101
6) t. Siza -Ndebele Space Time Machine
7) Ofuren – Khwezi
8) t. Siza – Segregation
9) Ofuren – Impressionism
10) t. Siza – Astro Astro
11) Fred Buddah – Untitled Raw 01
12) t. Siza – Rave Escape.
13) t. Siza – Third 3
14) t. Siza – Understand Nomore (The God Of Thunder Remix)