Podcast: Play in new window | Download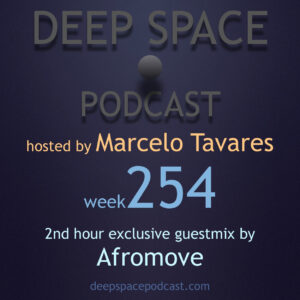 E ae!
Welcome to Deep Space Podcast! Many thanks for listening.
Today we gonna listen an exclusive and superb guestmix by AfroMove (Karabo Ntsoane, AfroMove Music, South Africa) in the 2nd hour!
Please check more detailed information about Afromove in the links below:
https://www.facebook.com/karabo.ntsoane
https://www.facebook.com/afromovemusiclabel
https://afromovemusic.bandcamp.com
Enjoy the week254!
Playlist:
Artist – Track Name – [Label]
1st hour mixed by Marcelo Tavares
1) Frank Mashkov – Feel The Groove (Original Mix)
2) Slotta – Love Hold On (Satoshi Fumi Remix) – [Deeper Shades]
3) Broken Deck – Voxer – [Hush Hush]
4) Makkhen Gigga – Vague – [Bumako]
5) Thomas Fehlmann – Silverness – [Tresor]
6) Toki Fuko – Variant V (Simak Delitvin Remix) – [Seven Villas]
7) Fit Of Body – Antonio Girl – [Ran$om Note]
8) The Sanctuary Project – The Sanctuary – [House Jam]
9) Mucity – Strong – [Raw Russian]
10) Atjazz – Track 7 (Mix 1) – [Atjazz Record Company]
11) The Revenge – Grit – [Dirt Crew]
2nd hour exclusive guestmix by Afromove (AfroMove Music, South Africa)
1) BillowJazz – Aurora Borealis – [Stay True Sounds]
2) Jazzuelle – Darkside Paradox – [Get Physical]
3) Laurence Guy – W.L.Y.B – [Church]
4) AfroMove – Track Two – [Forthcoming on RearlLtd]
5) Soul of Hex – Helipop – [Quintessentials]
6) The Checkup & Deeleegenz – My Kingdom – [Peppermint Jam]
7) Nuno (SEA) – Imagine (Thorne Miller Remix) – [Just Move]
8) MfanO Da R-Deep – I Have A Feeling (Rephlex's 923 Dub) – [Forthcoming on AfroMove Music]
9) Dwson feat. Kymac – Parrable – [Stay True Sounds]
10) DeepSouls – Testing Waters (Avi Subban Remix) – [Magique Music]
11) AfroMove – Baba Yaga – [AfroMove Music]
12) AfroMove – Track Four – [Forthcoming on RearlLtd]