Podcast: Play in new window | Download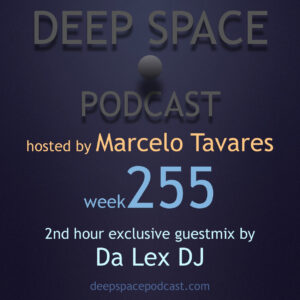 E ae!
Welcome to Deep Space Podcast! Many thanks for listening.
2 hours show featuring guestmix by my brother Da Lex DJ (South Africa) in the 2nd hour with many of his unreleased tracks!
Please check social media and more information for Da Lex DJ in the links below:
Facebook: https://www.facebook.com/tshepang.lebelo.96
Twitter: https://twitter.com/Official_DaLex
Instagram: https://www.instagram.com/dalex_dj
Email: tshepanglebelo1@gmail.com
Enjoy the week255!
Playlist:
Artist – Track Name – [Label]
1st hour mixed by Marcelo Tavares
1) Jenifa Mayanja – Excessive Matters – [Bass Cadet]
2) Lord Echo – The Sweetest Meditation (Borrowed CS Remix) – [Soundway]
3) SK95 & Rampage feat. Dee N'wa Dada – Vho Rosinah (Soulful Instrumental Mix) – [Sci Fi Productions]
4) Project Pablo – Oh Fer Sure – [Technicolour]
5) Alex Agore – Love Conclusion – [Guangzhou Underground]
6) Kiddmisha & Apoena – Dancin' – [Batti Batti]
7) Uffe – The Fact (VKTR Stepper Mix) – [Tartelet]
8) Kuniyuki & Jimpster – Kalima's Dance – [Soundofspeed]
9) Trevor Deep Jr Feat. Jazzy Doc. – Git Jazzy' – [HPTY]
10) Andrey Djackonda – Subaltnor – [DeepWit]
2nd hour exclusive guestmix by Da Lex DJ (South Africa)
1) Da Lex DJ – L (The Blvck Chinese Mix) – [Lav2rais Media]
2) Kay-9ine Feat. De Vow – Thetha Nam (Da Lex DJ Remix) – [Urunga Music]
3) Da Lex DJ – Improv – [Unreleased]
4) Ramenzoni – It's Just Flowers – [Ballet Fractal]
5) Da Lex – The Release (Somewhat Techy Groove) – [Spiced Music]
6) Radic The Myth – Blue – [Deep House Nations]
7) Lucian – Space – [Unreleased]
8) Kabwebsta – 2 (Da Lex DJ Instrumental Mix) – [Lav2rais Media]
9) Da Lex DJ – Dance Floor Theme – [Unreleased]
10) Da Lex DJ – Fungus – [Unreleased]