Podcast: Play in new window | Download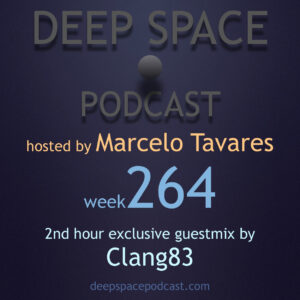 E ae!
Welcome to Deep Space Podcast! Many thanks for listening.
• MARCELO TAVARES meets SOUTH AFRICA •
• March 16th ~ April 4th, 2018 •
CONFIRMED DATES:
March 24 – Pretoria – TBA
RESERVED DATES:
March 16, 17, 18, 19, 23, 25, 30, 31
April: 1
ATTENTION: The deadlines for the reserved dates above expires in the next Monday, February 19th then will be available again.
Please PM only for serious bookings! Please help by sharing to you friends.
Many thanks and I hope to see you there!
And, in the next February 24th, 2018 I'll play at Ritmopéia in a b2b with Mauricio UM alongside Vivian, Subismö and Solemn. For more detailed information about this gig, please check the link for the Facebook event: https://www.facebook.com/events/351182295363007/
Enjoy the week264!
Playlist:
Artist – Track Name – [Label]
1st hour mixed by Marcelo Tavares
1) Elise – BFDF (Forest Drive West Remix) – [Man Band]
2) Da Lex DJ – Raw Cut 3 – [Spiced Music]
3) Deep Mayer – Wu – [Kolour]
4) B-Liv – Mi Utopia (Instrumental Mix) – [Olatu Foam!]
5) Vil Cazi – Moments Of The Season (Main Mix)
6) Slashisticks – Biter Deep – [Liztomania]
7) Marcus Worgull – Seen – [Innervisions]
8) Allen Craig – Lierre – [MTracks]
9) Reformed Society – Sunflower Starfish – [What Ever Not]
10) Black Loops – Higher – [Neovinyl]
11) Above Smoke – Outro – [Deep Explorer]
2nd hour exclusive guestmix by Clang83 (Lecce, Italy)
1) Ray Valioso – Tocar Te – [Real Soon]
2) Nick Holder – Private Selections (Love 2 Love U) – [DNH]
3) Larry Heard Pres Ona King – Premonition Of Lost Love – [La Casa]
4) Children Of A Deeper Society – Move On – [Movin']
5) DJ Disciple – Don't Shut Me Out – [Interstate]
6) DJ Sneak – Keep On Groovin' – [Strictly Rhythm]
7) Unknown – Untitled (A1) – [Wilson]
8) Romanthony – Everybody Dancing – [Trans]
9) Groove Chronicles – Your Powers Taking Over
10) Roman Rauch – Too Many Things – [Philpot]
11) Callisto – Need Ur Love (Stalactite Mix) – [Guidance]
12) Hanna – Sunday (Morning Breeze & Coffee Mix) – [Paper]
13) Brawther – Gsm's Life (MLIU Dub) – [Balance]
14) Dirty Jesus – Cut A Rug (Dog' N' Bonus Mix) – [Paper]