Podcast: Play in new window | Download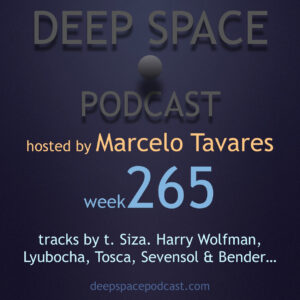 E ae!
Welcome to Deep Space Podcast! Many thanks for listening.
Stay tuned for the dates to my upcoming gigs in South Africa! Many thanks to Lee Da Cocktail, Emitate, Daddy D, Nova Kinkysoul, Maze Mr. Pain and ProTonic for providing venues and dates for the gigs! Luv u guys <3
I'd like to thank all you guys for the support, specially Emitate, Leviesco, Frulatto and Warren Hobson.
Enjoy the week265!
Playlist:
Artist – Track Name – [Label]
1) t. Siza – Abafana (The Boys) – [Super Black Tapes]
2) Harry Wolfman – Upstream – [Toy Tonics]
3) Lyubocha – Nenavist – [Opal Tapes]
4) Tosca – Amber November (Brendon Moeller Rub) – [K7]
5) Sevensol & Bender – Mythen Center Korfu – [KANN]
6) Vasquez – Afrolizer (LTJ Xperience Remix) – [Irma]
7) Ta-Ice – Bele Nele (Original Mix) – [Get Loud]
8) Sue Avenue – Hermeto (Original Mix) – [Nervous]
9) Christos Fourkis – Ghetto Woman (Original Mix) – [Retrolounge]
10) Loftsoul & Miruga – War Is Over – [Cultures]