Podcast: Play in new window | Download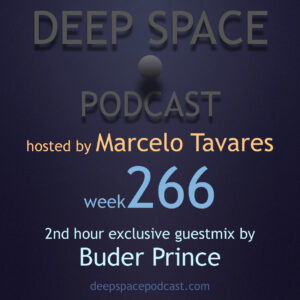 E ae!
Welcome to Deep Space Podcast! Many thanks for listening.
Today you gonna listen the exclusive guestmix by Buder Prince (Deep Obsession Recordings, South Africa).
Please check more detailed information about Buder Prince in the links below:
https://www.facebook.com/deep.obsessionii
https://www.facebook.com/deepobsession.recordings
The first track is a bomb by Deeperholic and you listen it exclusively right here at Deep Space Podcast! Thanks for sending it in advance, Steve!
Enjoy the week266!
Playlist:
Artist – Track Name – [Label]
1st hour mixed by Marcelo Tavares
1) Deeperholic – Schizophrenia
2) Vicmari – Good & Bad Side Of Me
3) Sir Rizio feat. Xam – I Can Tell (Nicky Deep RainDrop s Re-Fix) – [AfroMove Music]
4) DJ Aakmael – Track 1 – [Slow Down]
5) Urulu – Cold Ravioli – [Amadeus]
6) Emilie Nana – I Rise – [Compost]
7) Rawdio – Circles – [Swing & Jam]
8) PK VIbe – Terminal 4 (Mindless Output) – [AfroMove Music]
9) Jacssen – Clerick – [Swing & Jam]
11) Melodymann – Tears Of Jazz – [Melodymathics]
2nd hour mixed by Buder Prince (Deep Obsession Recordings, South Africa)
1) Evren Ulusoy – In the Name of the Dogs – [Bakroom]
2) Fera – There's Something – [Audiophile Music]
3) Kenny Dolo Feat. Myazisto – Take Me To The Place [Kenny Dolo Music]
4) Fera – Earth On My Feet – [Audiophile Music]
5) Witty Manyuha – I Heard You (Main Mix) – [Globa Deep]
6) Vandal M – Moody Nights – [FOMP]
7) Petr Serkin – Cassiopeia – [Shanti]
8) The Black & White Musiq – Inpiration in Deep – [Deep Obsession]
9) FKA Mash – No Talking – [Stay True Sounds]
10) Ruthes MA feat. Cece – You My Butterfly (D.O.R Projects Remix) – [Deep Obsession]