Podcast: Play in new window | Download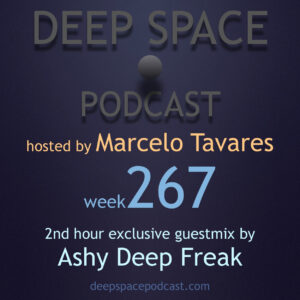 E ae!
Welcome to Deep Space Podcast! Many thanks for listening.
Time has come to my South Africa Tour, guys! I'll arrive in SA in the next week, March 16th. My 1st gigs will be in the same day of arriving, March 16th in the 457 Record Bar at 4pm and in the Rockerfella Soweto hosted by Maze Mr. Pain and Thami_537 at 10pm. See you there!
I'll update the scheduling as soon as confirmed dates so please check my social media and here in the homepage at the tab 'SOUTH AFRICA TOUR 2018'.
The schedule for South Africa Tour 2018 is:
• MARCH 2018 •
16th – 4pm: Shipment Friday • The 457 Record Bar • Pretoria / 10pm: A Night with Marcelo Tavares • RockerFella Soweto
17th – Deeper Dimensions #202 With Marcelo Tavares
20th – Deepteckishi Presents Moonflower • Disoufeng Pub • Soweto
21st – Spiced Music pres. Marcelo Tavares • Urban Lounge • Pretoria
23rd – Samba Jive • Drive Thru Car Wash (Tshepi) Hammanskraal
24th – O Ritmo Do Espaço Profundo com Marcelo Tavares 'Ode To GovDeep'
29th – Vinyl Thursdays • Protea Hotel Fire & Ice Menlyn • Pretoria
30th – Friday Next • YDE Pub • Durban
31st – 5pm: #RememberShe • P Square Louge • KwaMhlanga / 10pm: Re Pula Di Glass • Bangalo Dance • Pretoria
• APRIL 2018 •
1st – Double The Joy with Marcelo Tavares – Emthunzini Pub – Rosentteville

More dates TBA.
Enjoy the week267!
Playlist:
Artist – Track Name – [Label]
1st hour mixed by Marcelo Tavares
1) Tominori Hosoya – Birthday – [Matilda Music]
2) Thorne Miller & Shervaan Bergsteedt – Diversity – [Just Move]
3) DJ Koze feat. Rólsín Murphy – Illumination – [Pampa]
4) Primal Sode – Artemisia – [Konstrukt (NL)]
5) Petja Virikko – Summah Time – [Moodmusic]
6) BSC feat. Jessi Colasante – You & Me (Abicah Soul Instrumental) – [Grooveland]
7) Third Attempt – Shoreline – [Beatservice]
8) Deepest Nature – Erciyes Mountain – [BQ]
9) Strip Steve – Dreams Of – [Clone Royal Oak]
10) RnR – Bolt – [A Friend In Need]
11) Fish Go Deep – Moonrise – [Go Deep]
2nd hour exclusive guestmix by Ashy Deep Freak (South Africa)
1) Brame & Hamo – Clarence – [Brame & Hamo]
2) Dermarkus Lewis – Drive Time – [Reelhouse]
3) Pasta Boys – DeepMusique (Rampa Remix) – [Rebirth]
4) Big Al & Christos Fourkis – A Dream in Bali (Cee ElAssaad Voodoo Remix) – [Nite Grooves]
5) Chronicle Deep – Kunzima – [DNLC Music]
6) Gabbana – Iron Tullips – [Fluxtuations]
7) Gabbana – Fragile – [Fluxtuations]
8) Gabbana – Lerokolo – [Fluxtuations]
9) Atjazz – Track 9 (Mix 1) – [Atjazz Record Company]
10) Ta Ice Feat. Myazisto – Goodies – [Stay True Sounds]