Podcast: Play in new window | Download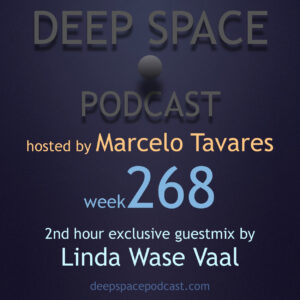 E ae!
Welcome to Deep Space Podcast! Many thanks for listening.
I'm back from my South Africa Tour!
I'd like to thank specially to Emitate, Frulatto and their families for accommodated me in their homes the whole time; and to Leviesco for driving safe to every place.
Also many many many thanks to all the friends who has arranged gigs to play in SA: Floyd Mash & Brino-Soul; The 457 Record Bar; Maze MrPain & Thami_537; Thulasizwe & Siboniso from Vinylifestyle Rooftop; Spice T, DaLex & Deeperholic from Spiced music; all the DJs that have played at Sunset Lounge to raise money for the GovDeep's family at 'Ode To GovDeep', where we've raised almost ZAR1.500; Vinny Da Vinci for inviting me to play in the #VinylThursdays at Protea Fire & Ice Menlyn; Sihle from YDE PUB; Lee Da Cocktail from #RememberShe at P Squared Lounge; and finally all the guys from Re Pula DiGlass specially Flexin, Sir-Collin, MrMaths, Audio'Bee, Emitate and Frulatto. We really had great time. See you guys in the next year, at the same period of Easter. One love!
Today you gonna listen 2 hours recorded via Facebook Live by BestBeats.TV in the Deeper Dimensions #202 with Marcelo Tavares at Vinylifestyle Rooftop, in the last March 17th.
1st hour by myself and 2nd hour by Linda Wase Vaal, both recorded live at Deeper Dimensions #202 at Vinylifestyle Rooftop by BestBeats.TV!
Many thanks to BestBeats.TV for the broadcasting!
Watch the Marcelo Tavares's video recording:
https://www.facebook.com/BestBeats.Tv/videos/2074385176152582/
Watch Linda Wase Vaal's video recording:
https://www.facebook.com/BestBeats.Tv/videos/2075343519390081/
Check the pics by BestBeats.TV from Deeper Dimensions #202:
https://www.facebook.com/pg/BestBeats.Tv/photos/?tab=album&album_id=2079582558966177
Enjoy the week268!
Playlist:
Artist – Track Name – [Label]
1st mixed by Marcelo Tavares
No playlist, recorded live in the last March 17, 2018 at Vinylifestyle Rooftop in the Deeper Dimensions #202.
2nd hour mixed by Linda Wase Vaal
No playlist, recorded live in the last March 17, 2018 at Vinylifestyle Rooftop in the Deeper Dimensions #202