Podcast: Play in new window | Download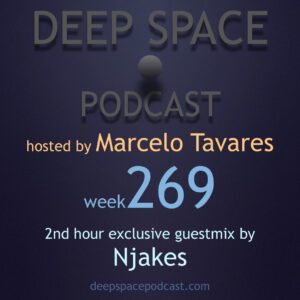 E ae!
Welcome to Deep Space Podcast! Many thanks for listening.
Today, you gonna listen in the 2nd hour guestmix by Njakes (South Africa).
Please check more infos for Njakes in the links below:
https://www.facebook.com/njakesyasolo.zakes
https://www.facebook.com/MakingYouUnderstandMusic
And stay tuned in the next week for the episode week270. I'll publish another live recording from South Africa Tour 2018!
Enjoy the week269!
Playlist:
Artist – Track Name – [Label]
1st hour mixed by Marcelo Tavares
1) Cool Affair – Ambient – [Cool Affair]
2) Aroop Roy feat. Blaktroniks – Walk That Walk – [Delusions of Grandeur]
3) Deeperholic – It's Not Over – [Spiced Music]
4) Sir Sabzee – Little Something – [Deep Inspirations Show]
5) Corbi – Ok, Tell Me – [Beats Of No Nation]
6) Ben Sun – Monday – [Voyeurhythm]
7) MfanO Da R-Deep – I Have A Feeling (Rephlex's 923 Dub) – [AfroMove]
8) Jeff Fader – As The Waves Roll (Adham Zahran Remix) – [Fade To Funk]
9) Breach – Culture – [NKDLTD]
10) Ruthes MA & Buder Prince – Lepara (Original Mix) – [DNH]
11) Vicmari – Are You Listening To Me? – [DeepStitched]
2nd hour mixed by Njakes (South Africa)
1) Crackazat – Spirit River (Original Mix) – [Local Talk]
2) Myazisto – Lublin – [Get Loud]
3 Axel Boman – 1979 – [Pampa]
4) Andre Lodemann – Unknown Desire (Original Mix) – [Best Works]
5) Nadja Lind – Drifting Elements (Chris Lattner Remix) – [Lucidflow]
6) Axel Boman – Nattsudd (Original Mix) – [Play It Down]
7) Black Loops & Innocent Soul – Oh Baby – [Toy Tonics]
8) Black Loops – 4 The Lovers – [Pets]
9) Luvless – Hang – [Mancha]