Podcast: Play in new window | Download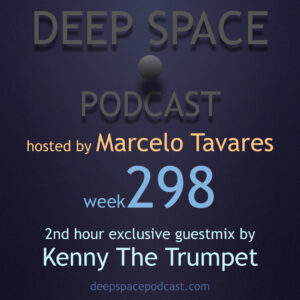 E ae!
Welcome to Deep Space Podcast! Thanks for listening.
The new homepage is out now! I'm still updating the older episodes time by time, but you can check now the all new homepage: https://deepspacepodcast.com
Today you gonna listen 2nd hour exclusive guestmix by KENNY THE TRUMPET!
Enjoy the week298!
Playlist:
Artist – Track Name – [Label]
1st hour mixed by Marcelo Tavares
1) Hazards of Prophecy – Percussion Concussion – [Tiff's Joints]
2) Mateis e. aqir – Laguna Negra
3) Location 141 – Silk – [Rogue Cat Sounds]
4) DaLex – No Priors
5) Ele Shims – Dub Rework – [Play Function Issues]
6) Iron Curtis – 10103 – [Office]
7) Charles Webster – Forget the Past – [Defected]
8) Marconi – Eh Eh (The Edit) – [Opilec Music]
9) Vicmari – What I Want
10) Mag Day Chuk & Sergey Sanchez – Follow The Melody – [Nite Grooves]
11) Nito James – Dreaming (Original Mix) – [theSoundSystem I-label]
2nd hour exclusive guestmix by Kenny The Trumpet
1) Kuniyuki Takahashi – You Should Believe – [Music From Memory]
2) Akaby Feat. Andre Lodemann – Another World – [Z Records]
3) Art Department – Walls (Chaim Remix) – [No.19 Music]
4) Cervendos Feat. Lauren Faith – High (Sonny Fodera Remix) – [Defected]
5) Dee Montero – Pangaea – [Knee Deep In Sound]
6) Black Loops – Alpha Centauri – [Neovinyl]
7) Detroit Swindle – Unfinished Business – (Original Mix) – [Freerange]
8) Art Department – Charts with Tell Me Why (Brennan Green Version) – [Crosstown Rebels]
9) David Orin – Antemeridian – [Saisons]
10) Deep Mode – Super Sonic (Original Mix)