Podcast: Play in new window | Download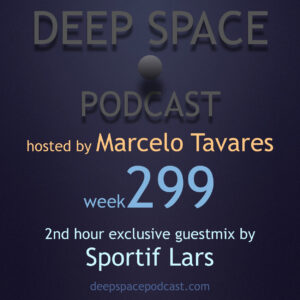 E ae!
Welcome to Deep Space Podcast! Many thanks for listening.
Today you gonna listen an exclusive guestmix by Sportif Lars (Osum Vibez, Hoopstad, RSA).
Please check more detailed information about Sportif Lars in the links below:
Facebook : Sportif Lars Mabilo
Instagram : Sportif_Lars
Mixtapes : www.podomatic.com/podcasts/osumvibez
Email : tshepo177@gmail.com
Enjoy the week299!
Playlist:
Artist – Track Name – [Label]
1st hour mixed by Marcelo Tavares
1) Splancnic – Say Ooh – [Just Move]
2) AFK & Bludwork – Akina Memory – [100% Silk]
3) Robotalco – Cuissardes Fatality – [100% Silk]
4) Doug Gomez – Sunrise In The Valley – [unquantize]
5) Gabbana – Anomalies
6) Msizo – Saved Souls (Deeper Mix) – [Lilac Jeans]
7) Gradient – Landscape One – [Greyscale]
8) Helios Mode – Caverns – [Sequential]
9) G. Family – The Guest (Christo Remix) – [Stay True Sounds]
10) Edmondson – Took – [Lissoms]
2nd hour exclusive guestmix by Sportif Lars
1) Chez Damier Feat. Ron Trent – Morning Factory (Original Mix) – [R2 Ltd.]
2) Caprivian – Lullaby In Rhythm (Original Mix) – [DNH]
3) Black Loops Feat. Nikis Haropoulos – 7Hills (Original Mix – [Freerange]
4) Claes Rosen – Wanna Do Right (Original Mix) – [Spring Tube]
5) Daniel Jef – Telephone Traffic (Original Mix) – [Draft LTD]
6) Daniel Jef – Resonant (Yanee Remix) – [YorubaGrooves]
7) Instead – Miles Away (Original Mix) – [Souled Black]
8) Doomwork – This! (Original Mix) – [Street King]
9) Paawl – Deeper & Deeper (Original Mix) – [Deeper Traxx]
10) Paawl – I went to Uni Twice (Original Mix) – [Deeper Traxx]