Podcast: Play in new window | Download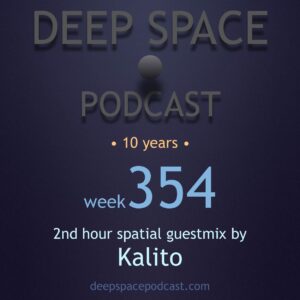 E ae!
Welcome to Deep Space Podcast! Many thanks for listening.
You gonna listen today in the 2nd hour spatial guestmix by Kalito (South Africa).
She is from Pretoria, and I've met her in person in the last year at House22 where we were partying together with many friends in the Ode To GovDeep 2019.
Please check more detailed information about Kalito in the link below:
https://wwww.facebook.com/krapau1
Enjoy the week354!
Playlist:
Artist – Track Name – [Label]
1st hour mixed by Marcelo Tavares
1) Matthew Hayes – Clear – [Black Wattle]
2) Chaos In the CBD – Significant Others – [Rhythm Section International]
3) Mario Penati – Back Home – [Chat Noir]
4) Explorer Of The Humankind – I Feel U – [Blaq Numbers]
5) Mike Steva – Time of Light – [Innervisions]
6) Rafael Moraes feat. Capitol A – One Shot (Yoruba Soul Mix) – [Yoruba]
7) Nachtbraker – Tangelo Dreams – [Nachtbraker]
8) Lars Bartkuhn – Pyramids (Part I) – [Needs]
9) DJ Jauche – Moments with Anne – [Flaneurecordings]
10) Damiano Von Erckert – Tears for You – [Aus Music]
2nd hour spatial guestmix by Kalito (South Africa)
1) Delskiz &Yan Polewk – Kouign Amann
2) Alex Renerro Mehlor – Sky Djoko Interpretation 2
3) Baltimore Chop – MBTW
4) Yuichi Inoue – Namamugi
5) Tete De la Course – Your Love Keeps me Hangin' On
6) Coral O Connor – Square Dots
7) Oliver Dollar Mike Agent X Clarke Feat. Dr. Trigle Finhers – Dreams For Sale
8) Vertigini – The Shrimps
9) Retromigration – Giving Back
10) Archie Hamilton Benson Herbert – Swerve
11) Erik Ellmann – Rare Devotion