Podcast: Play in new window | Download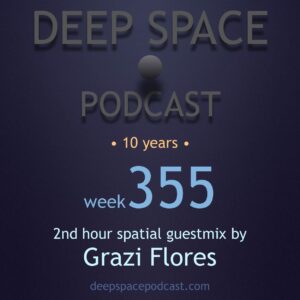 E ae!
Welcome to Deep Space Podcast! Many thanks for listening.
I'll feature today in the 2nd hour a spatial guestmix by Grazi Flores, owner and host from Lacuna Tropical, a radio show also from Dublab Brasil.
Please check more detailed information about Grazi Flores in the link below:
https://dublab.com.br/category/programas/lacuna-tropical/
Enjoy the week355!
Playlist:
Artist – Track Name – [Label]
1st hour mixed by Marcelo Tavares
1) Chari Chari – Liberation – [HMV]
2) Nightdrive – Monster's Lair – [Too Rough 4 Radio]
3) Lexx – The Quest – [Lexx]
4) Tek Killa – The Beach – [Deepology]
5) Zito Mowa – Dilo S'tfong – [No Fuss]
6) Wild Reflection – You The Only One – [Blaq Numbers]
7) Makèz – Red Island – [Let's Play House]
8) Daniel Maunick – Hurt Feelings – [Far Out]
9) Theo Parrish Feat. Maurissa Rose – This Is For You – [Sound Signature]
2nd hour exclusive guestmix by Grazi Fores (Lacuna Tropical, São Paulo, Brasil)
Sorry, no playlist.