Podcast: Play in new window | Download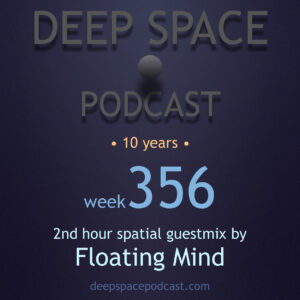 E ae!
Welcome to Deep Space Podcast! Many thanks for listening.
In the today's show you gonna listen the spatial guestmix by Floating Mind, big boss from monoKraK Netlabel. It's dope!
I already did a guestmix to his podcast a few weeks ago, don't miss it!
Please check more detailed information about Floating Mind and also listen to my guestmix to monoKraK netlabel in the links below:
http://www.monokrak.net
http://www.monokrak.net/podcasts
Enjoy the week356!
Playlist:
Artist – Track Name – [Label]
1st hour mixed by Marcelo Tavares
1) Khutšo Chuma – No Looking Back
2) Willie Graff & Tuccillo – Colorful Orbs (Charles Webster Remix 2) – [HOLIC TRAX]
3) Conoley Ospovat – Love The Lights – [Kimochi]
4) Eho Kates – Anxiety Sensitivity – [Kimochi]
5) Tammo Hesselink – Ideomotor – [Nous'klaer Audio]
6) Sw. – rOAch rOAd 0.1 X-LOOSE – [Kimochi]
7) Clang – Rocco
8) Linkwood & Other Lands – Silver Nows – [Athens Of The North]
9) Mangabey – Lunar Light (Flight Piano Edit) – [Cracki]
10) Dan Kye – Raro – [Rhythm Section International]
11) Jarren feat. Jacob "JD" Crouch – Rewind – [Slices Of A Dog]
2nd hour spatial guestmix by Floating Mind (MonoKrak Netlabel, Switzerland)
Sorry, no playlist.