Podcast: Play in new window | Download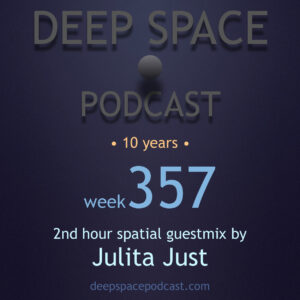 E ae!
Welcome to Deep Space Podcast! Many thanks for listening.
It's out now week357 featuring a spatial guestmix by Julita Just! She is from Radio Electronica Jena, Germany.
https://www.radioelectronica.de

Special thanks to Radio Electronica Jena's boss Martin Reiner!
Big luv to my brother Vicmari!
Please check more detailed information about Julita Just in the links below:
https://soundcloud.com/julita-just
https://web.facebook.com/JulitaJustDJane

Enjoy the week357!
Playlist:
Artist – Track Name – [Label]
1st hour mixed by Marcelo Tavares
1) Map.ache Feat. Frida Bagö – Slow Break Fast – [Giegling]
2) Lool 2 Luul – The B Line Loop – [Pace Keepin']
3) Dub Taylor – Meulendorf – [Lucidflow]
4) Matt Thibideau – Time Stands – [Yoyaku]
5) Kruglenko – Crisp – [MixCult]
6) FloatingMind – 14&24 – [monoKraK]
7) Mia Riddles – Sacredo – [Ubertrend]
8) Vince Watson – Progress (Manoo Remix) – [Everysoul]
9) Theoretical Speed Feat. Greg Paulus & John Camp – 40 Grams of Latency (Akufen Remix) – [Visionquest]
10) Deephope – Rooftop – [Batavia]
2nd hour spatial guestmix by Julita Just (Radio Electronica Jena, Germany)
1) Marc Brauner Feat. Maéva – Liberté – [Start Local]
2) KIKA, C.I.S.C.O – Lo Esencial (C.I.S.C.O Remix) – [Island Beats]
3) HATT.D – Infinite Space – [Start Local]
4) Prunk – Pascific (Original Mix) – [PIV]
5) Habibi Grooves – Piano house – [selfreleased]
6) Andy Kas– Juiced – [Fresh Take]
7) Cream Soda – Volga – [Rhythm Park]
8) Antor & Toman – Gamba Roja (Dimmish Remix) – [Moan]
9) Black Loops – Badmanthing (Original Mix) – [Shall Not Fade]
10) Off Point – Ain't No Bother – [Berlin House Music]
11) Dimmish – Riddle (Toman Remix) – [No Art]
12) Black Loops – I Know You (Original Mix) – [Shall Not Fade]
13) Andy Kas – I Am Not MY Mind – [Fresh Take]