Podcast: Play in new window | Download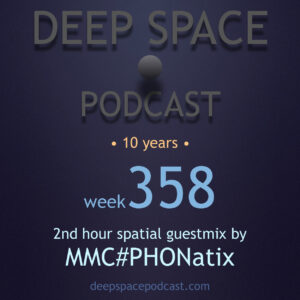 E ae!
Welcome to Deep Space Podcast! Many thanks for listening.
You gonna listen today, the PENULTIMATE SHOW OF 2020, a spatial guestmix by MMC#PHONatix aka Deepshit! Dope guestmix, one of the best!
A few words from him, about his music trajetory:
"MMC = Mix Master Cooky (+PHONatix) 😉
1990/1991 started with DJ with Trance and Techno… Then I realized that this kind of music doesn't touch me.
From about 1994/1995 I went over to House (US-House), favored DJ and producer Glenn Underground, but also lover of B-Sides (Vinyl). At that time I was the first in my region who dared to play House music. Until about 2006/2007, then it became quiet… Other things and stuff got priority… Artist break 😉
But in 2017 came the comeback … as DEEPSHIT or DEEPERHOLG 😉
I wanted to play music by myself again.
Predominantly now, however, Deep House (Real Underground Deep House) and I stand by it!"
Please check more detailed information about MMC#PHONatix aka Deepshit in the links below:
https://hearthis.at/hwmmc/
https://www.mixcloud.com/hwmmc/
Big luv to my brother Christian Steinburg, the Spatial Listener of the week! Many thanks for your support, bro.
Enjoy the week358!
Playlist:
Artist – Track Name – [Label]
1st hour mixed by Marcelo Tavares
1) Kiko Navarro feat. Caridad de La Luz aka La Bruja – Para Mama – [Wonderwheel]
2) Chayell – Beach – [Isle Of Jura]
3) RUMTUM – Botanic – [Bastard Jazz]
4) Tommy Guerrero – Battles Of The Forgotten (Margee Rework) – [Music For Dreams]
5) K-Wash – Fashion – [Fat Beats]
6) Soichi Terada -Saturday Love Sunday – [Rush Hour]
7) Holy Ghost Inc – Walk On Air (Sun & Moon Mix) – [Isle Of Jura]
8) Wade Watts – Fountain Of Memories (Original Mix) – [AfroMove]
9) Rodrigo Soria – Free and Easy – [Sophisticate]
10) D'Joes – Passing By (Thap'soul Remix)
2nd hour spatial guestmix by MMC#PHONatix aka DEEPSHIT
1) Ugly Drums & Chesney – No Drinks Tonight (LOL) – [Kolour LTD]
2) Grant – Finite Elements – [Lobster Theremin]
3) BSC, Heidi Vogel – You Got What You Give (60 Hertz Project Remix) – [Grooveland Music]
4) Loure – Curbside Glow – [Nothin Personal]
5) Cosmonection, Tour-Maubourg – Orange Glue – [Virage]
6) Deejaykul – Aftermidnite (Nurework Mix) – [Peng]
7) Lomidze – Rive – [Conceptual]
8) Wolford Heifer – Sarah's Garden – [Dirty Analog]
9) China Charmeleon – Hard To Say Goobye – [China & Andy]
10) Gary Hattenberger – Penguins Kitchen – [Dirty Analog]
11) Chassé – The Fresh Prince – [Big Bait]